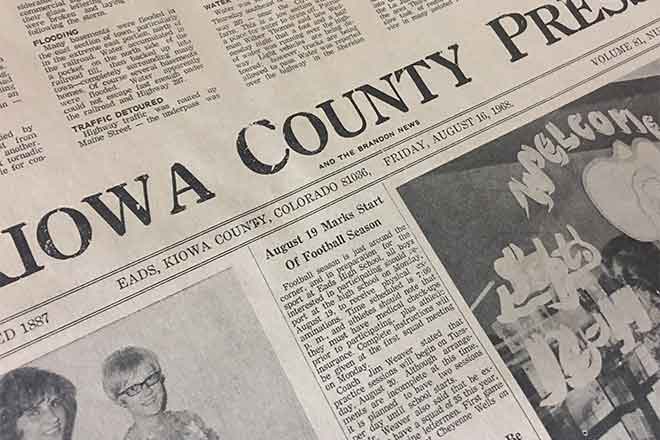 Published
Saturday, December 22, 2018
15 Years Ago
December 19, 2003
Dear Santa, You should meet my special teacher Mrs. Gooden. I am glad I have as good as teacher as her. Chelsea Lynn Crosby
Dear Santa, Does Rudolph really have a red nose and does he really guide the sleigh every Christmas? Dorian Ray
Dear Santa, Do you like delivering toys? Do you like making toys? Mariya Krueger
25 Years Ago
December 22, 1993
There are reports the Colorado Department of Health & the EPA have suggested to Bio-Gro they stop the application of sludge and related products in all Kiowa County.
County Commissioners receive an early Christmas present. Press owner David Parker to leave the state.
Dear Santa, Hi, I'm Joshua Fry. I would like a horse, ice skates, school pants and a army gun. Joshua Fry.
Dear Santa, I got Santa some tennis shoes. I want a dinosaur toy. Love T.J. Watts
Dear Santa, I would like a real baby horse, a saddle, a brush and a real monkey. Love Joey Grivois
40 Years Ago
December 22, 1978
An early afternoon fire which roared through Ronald Ferris home left only a smoldering heap of ashes as a reminder of what once was.
Clara Gereke who has been Kiowa County Senior Citizen coordinator over the past 6 years is retiring again from public service. Clara retired once before after teaching school for 35 years.
Dear Santa, I want some knee boots and a boyfriend, 2 tires, a dolly, a bad boy and tape recorder, Love Lana
Dear Santa Claus, I want a German Shepherd Travis Riggins.
Dear Santa, I want a four wheel-drive tractor and a semi cattle truck Jimmy Brown
50 Years Ago
December 20, 1968
Haswell Happenings: Despite so much sickness, there was a nice turn-out for the Christmas program and church dinner.
75 Years Ago
December 17, 1943
Southeast Colorado Power Association has received a notice of approval of an $880,000 allotment for acquiring electric light and water systems in southeaster Colorado and southwestern Kansas