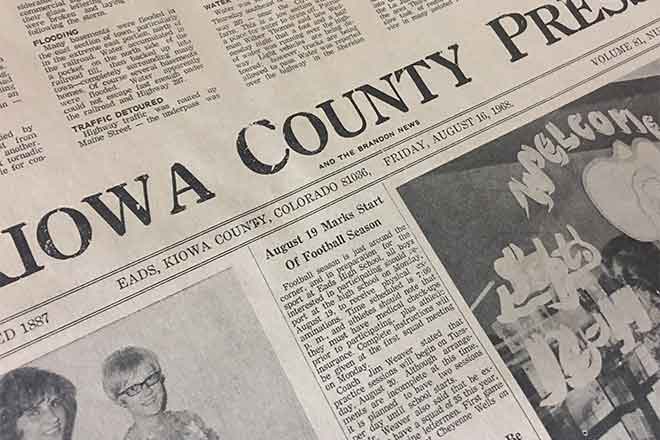 Published
Friday, July 26, 2019
15 Years Ago
July 23, 2004
The Southern Plains 12U All Stars, comprising of players from Eads, Cheyenne Wells, Holly, McClave and Wiley, became the Colorado Babe Ruth Softball Champions, going undefeated in the state tournament held at Eads.
25 Years Ago
July 29, 1994
Wild Horse Roundup-Curtis Schrimp: We had about 0.50 inches of rain last week, but I'm not sure of the day as that was too long ago to remember.
Towner Tales-Ann Harkness: Weather spotters were in the area trying to monitor the situation while the cloud seeding planes were busy overhead.
40 Years Ago
July 27, 1979
A Senior Citizens' Housing Complex is being considered for the Eads community according to Dorothy Frazee, Director of Kiowa County Senior Citizens Activities.
50 Years Ago
July 25, 1969
Roy Rogers and Dale Evans will open the Colorado State Fair with five performances with the rodeo August 23-27.
75 Years Ago
July 21, 1944
Patrons of the Victory Theatre in Eads are now receiving benefit of vast improvement in the projection equipment recently made by manager, Woody Williams.
100 Years Ago
July 25, 1919
Roy Kessler has resigned from the position of carrier on route B, and Bert Hill, who has lived north of Galatea for a number of years, will be the new carrier.
C.A. Smith of First View, Cheyenne County, Colorado, has opened a real estate office in the building formerly occupied by C.C. Wolever.
Oscar York has sold his interest in the Eads Dray Line to Ed York, his brother, and will go to Cameron, Missouri, and find work of some kind there.