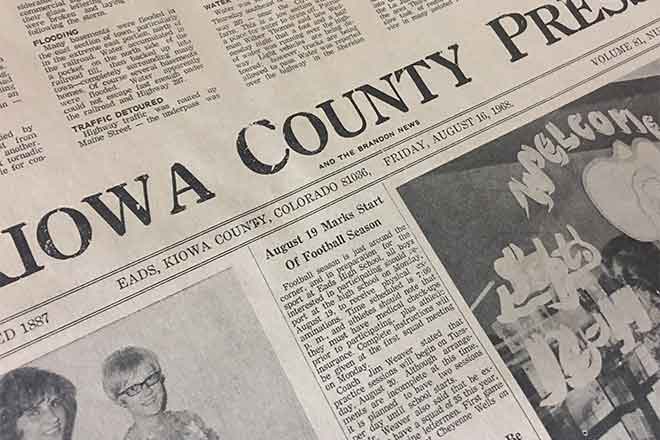 Published
Saturday, August 17, 2019
15 Years Ago
August 13, 2004
Kiowa Creek Estates, formerly known as the Jackson property, is now available for purchase by the public in parcels ranging from 1/2 to 20 acres.
The third annual Kiowa County 4-H Food Auction was a huge success. Sixteen food items sold for a total $950.
Five barn owls were release south of Eads after being rehabilitated.
25 Years Ago
August 19, 1994
The Eads Board of Trustees meet to interview four candidates from a group of 16, who applied for the position of Police Officer in the newly formed Eads Police Department.
Effective August 8, 1994, three Colorado counties were designated natural disaster areas where eligible family farmers may quality for Farmers Home Administration emergency loans due to damage and losses caused by severe hail and high winds during May and June 1994. Those counties are Kit Carson, Cheyenne and Kiowa.
40 Years Ago
August 17, 1979
Donald E. Oswald, son of Mrs. Florris Oswald of Eads, has been named to the President's Honor Roll at Northeastern Junior College, Sterling, Colorado.
County school to open August 27.
50 Years Ago
August 15, 1969
Burrel Wissel, who has operated the Burrel's Barber Shop the past 22 years, told the Press he has accepted apposition in the State Selective Service headquarter in Denver.
Davis family reunion was held at the home of Mr. & Mrs. John A. Davis in Haswell with 80 people present.
75 Years Ago
August 11, 1944
Work is now in progress on State Highway 96 to repair that portion that was oiled several years ago from Haswell about 42 miles east. The work is being done under the supervision of the county and will be rushed along as fast as the supply of oil will permit.
100 Years Ago
August 15, 1919
The commissioners met this week and drew the jury for the coming term of court in October. They also let a contract for a bridge this side of Queens Beach to Mr. Clements.
F. D. Downey has leased the vulcanizing outfit at Sunday's Garage, moved the room to the back part of the building and will be in charge of that work from now on.