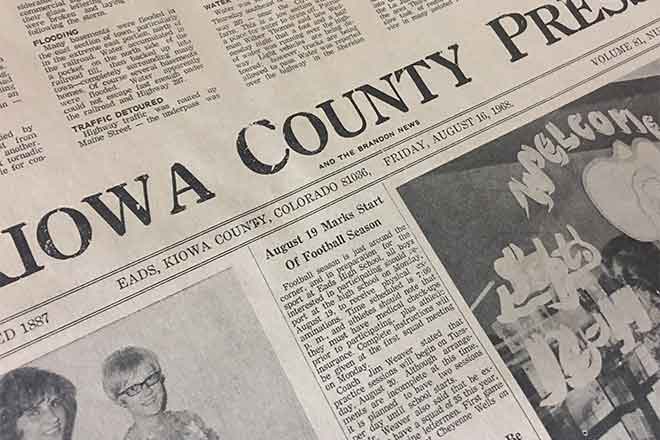 Published
Friday, October 25, 2019
15 Years Ago
October 22, 2004
Over 400 Residents from across Kiowa County participated in the mass vaccination exercise.
The Kiowa County Commissioners are excited to announce the groundbreaking ceremony for the new assisted living center October 2, 2004.
The annual Haswell Fish Fry picnic was Sunday afternoon at the park. Paul Stoker fishes at Blue Lake and furnished the fish as a "thank you" for community support of the Haswell Propane & Fuel Co.
25 Years Ago
October 28, 1994
Wild Horse Roundup-Curtis Schrimp: There was quite a fire about 5 or 6 miles northwest of Wild Horse. I was told it was in a CRP field and burned about 2.5 miles long and about 0.5 miles wide.
Towner Tales-Ann Harkness: Many residents have witnessed the cranes flying south this past week. Quite an impressive sight as they move noisily through the sky.
40 Years Ago
October 26, 1979
Tom Davis, owner of Kiowa Drug, reported considerable damage throughout the store when someone threw a full 7-up can thru the window.
Sheridan Lake Ripples-Mrs. Oren White: Mark Osborn, son of Mr. & Mrs. Robert Osborn, fractured a wrist in a freak accident. A horse, half crazed by a rattlesnake bite, ran over him through a fence gate as Mark tried to hold back. The horse later died from the snake bite.
50 Years Ago
October 24, 1969
Weather continues to dominate the news scene in Kiowa County as more rain covers most of the area.