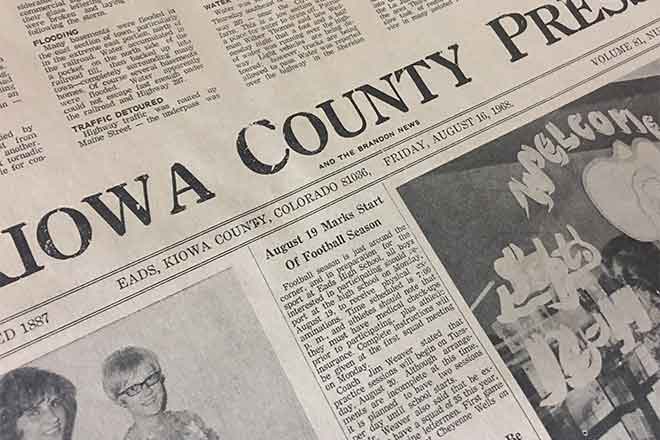 Published
Friday, January 17, 2020
15 Years Ago
January 21, 2005
Southeast Colorado Power Association donated $2500, portion of proceeds from the annual Charity Classic Golf Tournament, to the Salvation Army Store in Eads.
25 Years Ago
January 20, 1995
Towner Tales- Ann Harkness: the east end is in need of EMTs. Currently, there are 4 active EMTs who are on call 24/7.
About Town- Ida Lessenden: While in Keith Wissel's store this weekend, he said this would be his final week.
Wild Horse Roundup- Curtis Schrimp: It seems nice to once again have church in Wild Horse, if only once a month.
Towner Tales- Anne Harkness: Report cards at Plainview will be handed out. Parents are reminded lunch and activity bills must be current for students to receive their report cards.
40 Years Ago
January 18, 1980
Eastern Slope Rural Telephone is sponsoring a photo contest, with the winning entry to be used on the cover of the next telephone book.
Approximately 26 Eads High School art students will show some of their art projects in the gym foyer during the basketball game Friday and Saturday.
Nursing Home News- LaVerne Fischer: The treat for the residents Tuesday afternoon was hot cinnamon rolls from Margit Parker
50 Years Ago
January 16, 1970
Bartlett & Co. Grain of Eads and Anderson Seed Co. of Lamar sponsored a dinner meeting for 75 area farmers. The purpose was to present different seeds of the Golden Acres Seed Company of Texas, which are sold through the local outlets.
100 Years Ago
January 2, 1920
Howard Davidson is giving a big free-for-all dance at the new building Saturday night.
100 Years Ago
January 9, 1920
The water bond election was carried by a majority of 53 to 11 in favor of the plant. We are now assured of a modern plant for Eads in the very near future.
100 Years Ago
January 16, 1920
Howard Davidson moved into the new pool hall this week. New fixtures, electric light and the general brightness of things, tighter with more tables and more room, make this one of the most attractive pastimes in this part of the state.