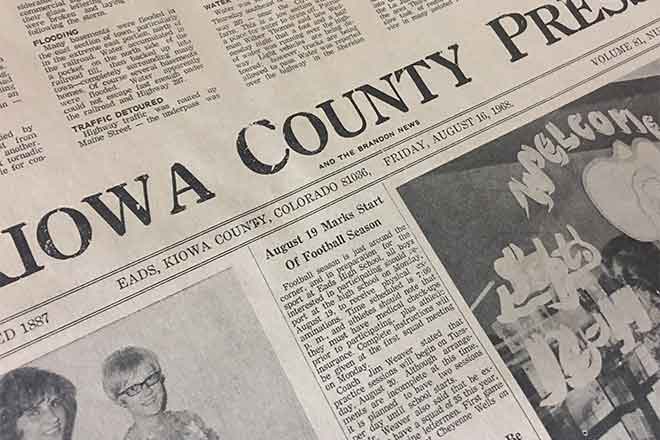 Published
Sunday, March 22, 2020
15 Year Ago
March 25, 2005
Wild Horse Roundup - Curtis Schrimp: For the last few days there have been as many turkeys as people in Wild Horse.
25 Years Ago
March 24, 1995
Amanda Wyatt has been selected to receive the Colorado School of Mines Medal of Achievement in Math and Science for the academic year 1994-95.
40 Years Ago
March 21, 1980
Craig Scott was named the Overall Grand Champion of the Junior High division at the Regional Science Fair.
Ron Rehfeld took high individual honors in the annual Colorado State University intramural judging contest. Ron had a total score of 937 out of a possible 1000. Ron was also on the first-place team who took high overall honors.
50 Years Ago
March 20, 1970
A town team basketball tournament is being planned for the Eads High Gym. Invitations have been sent to 15 teams.
75 Years Ago
March 16, 1945
Our boys played very good basketball but were not accustomed to the large court. In selecting the all-star team, Donald Weatherman was given a place of honor.
100 Years Ago
March 19, 1920
After closing down during the winter due to coal shortage, the drilling on Ne-No-She Oil Co. will resumed and push to completion as rapidly as possible.
L.M. Bolton, formerly of Utica, KS, arrived with a tractor and plows. He recently purchased a half section which he will plow and prepare for wheat.
100 Years Ago
March 5, 1920
The furniture in the new Low hotel has arrived and being put in place. The name of this new modern hotel will hereafter be known as the Rialto.