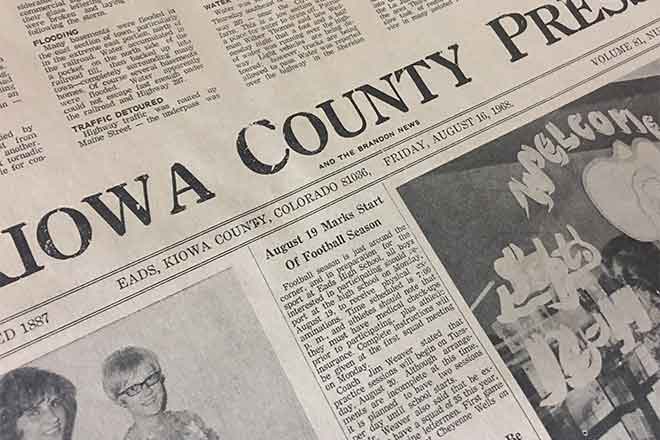 Published
Friday, April 17, 2020
15 Year Ago
April 22, 2005
Eads School Band received one I and two II ratings at the competition in Breckenridge over the weekend.
East End Events -Lana Weber: Ralph Hallock gave dance lessons to Vicki and Becca Specht, Miranda, Lana, Lauren, Natalya and Peg Weber. It was fun, brutal, and well-deserved lesson. Yep, black eyes and bloody noses were involved. Everyone, BEWARE! Dancing can be a very dangerous hobby.
25 Years Ago
April 21, 1995
Area News - Amy Weirich: One thing about the overcast weather, at least you won't get sunburn.
Nursing Home News -Nellie Nickert: Tina, with her gentle persuasion, leads us with stretch and movement exercises per video tape twice weekly.
40 Years Ago
April 18, 1980
Craig Scott, a junior high student from Plainview, won top honors at the Kiowa County Spelling Bee. Marsha Koch, eighth grade student from Eads Junior High, won runner-up.
The Plains Theatre will reopen its doors this Friday. The theatre closes during the winter season, the school sport season and reopens early spring.
50 Years Ago
April 17, 1970
The first annual Eads-Haswell Elementary Science Fair was a huge success with family and friends of students grade 1-6 viewing the projects.
Ruth N. Burbaker, formerly of Haswell, 5th floor surgical head nurse of Penrose Hospital, received the Colorado Nurses Association Pike Peak District, Nurse of the Year award.
75 Years Ago
April 13, 1945
One of the largest and most destructive prairie fires burned north and east of Brandon. High winds swept the flames, crossing roads, dry creeks, and burning everything in its path.
Missouri Pacific pump house, located east of Haswell, burned down about 7:00 a.m. It's believed the fire was started by sparks on the roof.
100 Years Ago
April 16, 1920
R.E. Jackson and E.C. Bell are setting a good example by setting out a lot of fruit and shade trees in Jackson's sub-division.
The linemen have begun setting electric light poles and probably by next week will be ready for the wires.