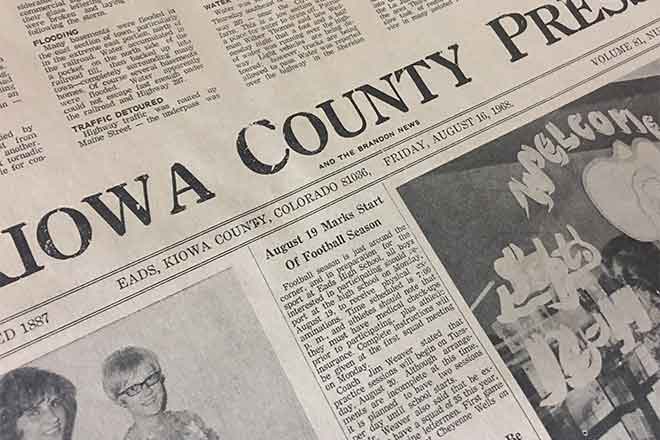 Published
Friday, April 24, 2020
15 Year Ago
April 29, 2005
The Economic Developers' Council of Colorado named Kiowa County and Eads the state's small community of the year.
Quilt Show April 28 - May 7 at the Artist of the Plains Gallery.
25 Years Ago
April 28, 1995
Kas Davisson: Life in Oklahoma City will never be the same. April 19, a single insane act destroyed hundreds of lives and the peace and serenity of Oklahoma City.
A survey of wheat field from Eads to Haswell revealed that some field have significant damage from the April 10 storm.
A small velvet bag found in January this year, containing $5,700 in $100 bills, was returned to its owner.
40 Years Ago
April 25, 1980
I'm really not very old! I was only 91 April 11, just short two weeks ago! Maybe, just maybe, someone will remember me and wish me a Happy Birthday Kiowa County.
Fire consumed the large stack of posts, and the heat caused extensive damage to the Robert Marcum home.
50 Years Ago
April 24, 1970
Mr. & Mrs. Clark Beeson have opened Kiowa Parts, Inc. located in the building south of Fischer's Shamrock.
Oral Parker is retiring from his GMC Truck and Farm Supply in the west part of town. He has sold to his son-in-law, Clifford Garrison
Bill Honaker informed the Press softball practice will begin next Wednesday. Any men interested in playing slow-pitch softball are urged to attend.