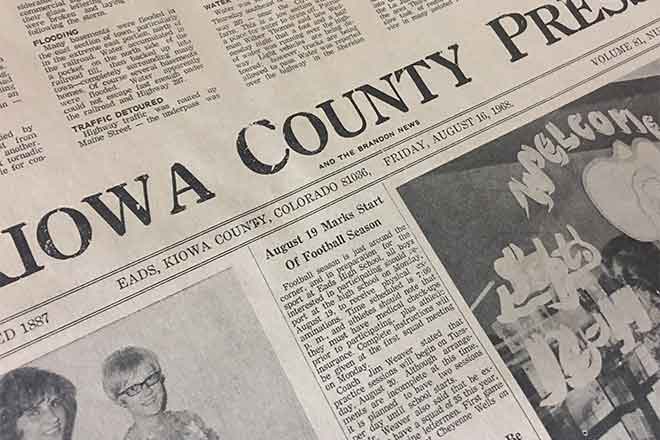 Published
Friday, May 1, 2020
15 Year Ago
May 6, 2005
Eads 4th grader, Kyle Crow, earned $950 for his college education in statewide contest -Who Wants to Be a College Student?
East End Events - Lana Weber: Plainview had their prom last Saturday. There were 30 students in attendance, along with several adults for the dinner
25 Years Ago
May 5, 1995
Looking for a Super Sitter to care for your children? Twenty-three girls just completed a babysitting training course given by CSU Cooperative Extension service.
CFSA Update -Rod Johnson: Most of the reports receiving from the field on freeze damage are favorable.
40 Years Ago
May 2, 1980
April showers certainly have been in abundance during the month of April. According to the official weatherman, John E. Jacobs, a total of 3.86 of moisture has fallen.
The Plainview School band continues to be successful as were the top-rated Class I band at contest held in Limon.
Home Oil Company in Eads was burglarized late Monday night or Tuesday morning and approximately $270 in cash taken.
Colorado farmers and ranchers facing a possible grasshopper epidemic this summer should react quickly and forcefully to restrictive EPA guidelines on the use of pesticides
50 Years Ago
May 1, 1970
CSU announced that, due to lack of legislative funding, cutbacks in spending must be made. One suggestion was reducing experimental branch station by 1/2 and close the Rocky Ford Animal Disease Diagnostic Laboratory.