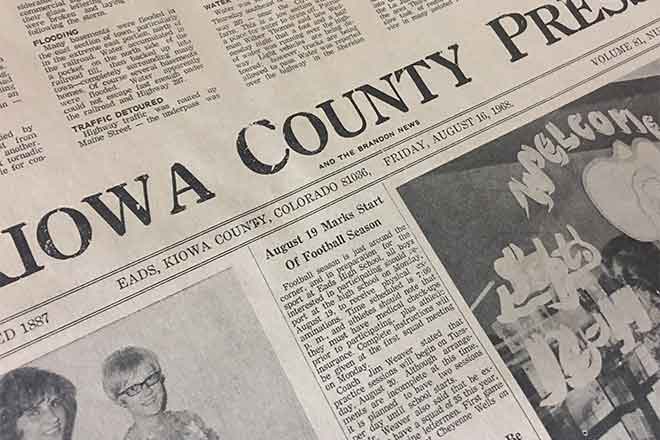 Published
Friday, May 29, 2020
15 Year Ago
June 3, 2005
Australia artist Colley Whisson will conduct a one-day oil painting seminar at the Artist of the Plains Gallery.
The Eastern Kiowa County Alumni Reunion was scheduled for August 6 at the Towner Community Hall.
25 Years Ago
June 2, 1995
The Colorado Historical Society awarded $5,000 to the town of Haswell to conduct a historical evaluation of Old Town Haswell.
Nursing Home News- Nellie Nickert: The kindergarten students came for a balloon lift: each resident had their name on a balloon. If you were to be looking skyward at 2:30 you would have noticed a number of multi-colored balloons floating over town.
Area Notes- Amy Weirich: Where are we living? Is this southeast Colorado? I'm beginning to wonder, with all the moisture that we have had lately.
40 Years Ago
May 30, 1980
Graduation ceremonies were held throughout the county. Plainview had 12 Seniors and 9 eighth graders walk across the stage. In Eads there were 19 eighth graders and 27 Seniors.
50 Years Ago
May 29, 1970
Lou Campbell of Lamar topped a field of 59 golfers during an open golf tournament at Eads Golf & Country Club.
Reorganization of the extension service in the lower Arkansas Valley into a single multicounty unit has been approved by the Board of County Commissioners