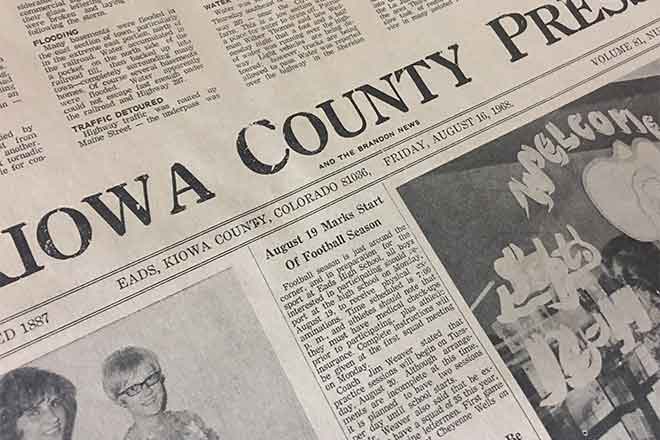 Published
Saturday, July 11, 2020
15 Year Ago
July 15, 2005
Kiowa Healthmart Pharmacy earned a Healthmart "Pharmacy of the Year" regional prize from McKesson Corporation.
West End Wavelength - Michelle Wyckoff: Yippee! Yahoo! Yehaw! Rain -We got rain in the West End.
25 Years Ago
July 14, 1995
Don Pfingston became the second Eads resident in as many years to win the KVAY June Bug.
Hal Ketchum will be performing at the Lamar Community Building August 8.
40 Years Ago
July 11, 1980
At the regular meeting of the Board of Trustees of the Town of Eads, members voted unanimously to hire Randy Gerlock as Town Marshall.
The 1980 wheat harvest is in full swing, however that isn't the only thing "full." According to reports, every grain elevator in Kiowa County is full and overflowing.
Fischer's Service Station was the victim of a credit card fraud. Leonard noticed the front and rear license plate did not match and jotted them down. The credit card used was on the "stop list," so Mr. Fischer notified authorities and the man was stopped in Lamar.
50 Years Ago
July 10, 1970
Chevron Oil is pump testing their well in Cavalry Field after drilling the pay section with foam. The well is producing approximately 24 barrels of oil without artificial stimulus.
75 Years Ago
July 6, 1945
People in attendance at the dance have reported loss of their food ration books. Sheriff Kelley says that many cars were pilfered by thieves that night.
100 Years Ago
July 9, 1920
A freight train wreck occurred at the east end of the Missouri Pacific line at Towner. One train was taking the siding, but not yet in the clear, when the other attempted to pass. The locomotive was upset and about 14 cars demolished, blocking traffic all day. No injuries, but property loss was large.
The Chautauqua is becoming more popular everywhere, and this season Towner also had one. There soon to be one in Sheridan Lake and, we understand, Haswell and Arlington are each to have Chautauqua this month.