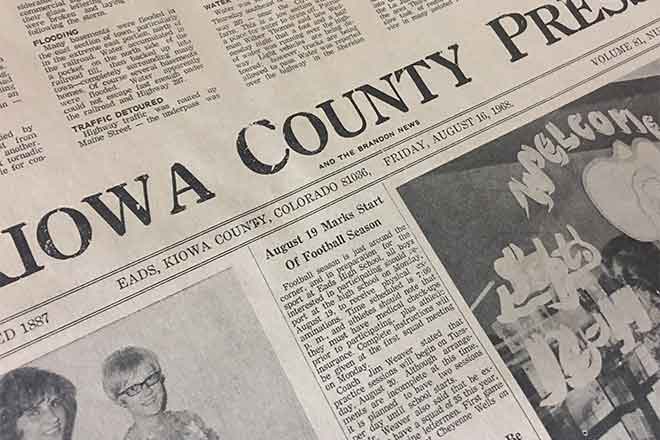 Published
Friday, September 4, 2020
15 Year Ago
September 9, 2005
Governor Bill Owens has reappointed George H. Tempel of Wiley, representing a number of Colorado counties including Kiowa, to State Transportation Commission.
The Kiowa County Press began a 'new look' with a full-page color photo being the front page. They encourage readers to submit color photos of Kiowa County.
Kit Carson Clips- Marilyn White: Kit Carson Day was a success as always. I hear some of the older generation can still three-legged race and not fall down!
25 Years Ago
September 8, 1995
Kiowa County 4-H members made a great showing at the Colorado State Fair. Several received a unit champion or reserve champion, and many placed in the top ten.
Plainview Junior High and High School cheerleaders placed first and second, respectively, in the State Fair Cheerleading competition.
Wild Horse Roundup- Curtis Schrimp: There were people from quite a distance to attend Kit Carson Day. Malcolm Ann Grimsley came all the way from London, England.
40 Years Ago
September 5, 1980
Kiowa County Commissioners and the Colorado Department of Health announce the appointment of Margaret McAllister as County Community Health Nurse. Margaret replaces Marge Barlow, who has retired.
The nature of two break-ins necessitated the help of the Colorado Bureau of Investigation in the investigation according to Kiowa County Sheriff Floyd Griswould.
Nursing Home News- LaVerne Fischer: Our cooks appreciate the vegetables and fruits brought in by town's people.
The Colorado Cattlemen's Association is offering $15,000 reward for the arrest and conviction of the person or persons illegally seeding clouds in the San Luis Valley
50 Years Ago
September 4, 1970
District RE-1 schools, Haswell and Eads, began session Monday. The first day enrollment figures show a slight decrease over the beginning figures of last school term.
Former Eads residents Lonnie Blooding and Marilyn Wimp gave a very outstanding demonstration on bread making at the state fair.
75 Years Ago
August 31, 1945
The experiment has proven satisfactory, so the Town Board of Eads authorized citizen to follow a schedule of irrigation in the evening, one hour per day on alternate days.
Mr. & Mrs. John Osolin will now greet friends and customers from their new business establishment on the south side of Eads. They have completed a new building to house a service station and grocery store.
100 Years Ago
September 3, 1920
Rush Creek is up and out of its banks and it is impossible to cross on the Kit Carson road.
Missouri Pacific trains were delayed Thursday because of washout between Haswell and Galatea. Water stood about 18 inches on the track.