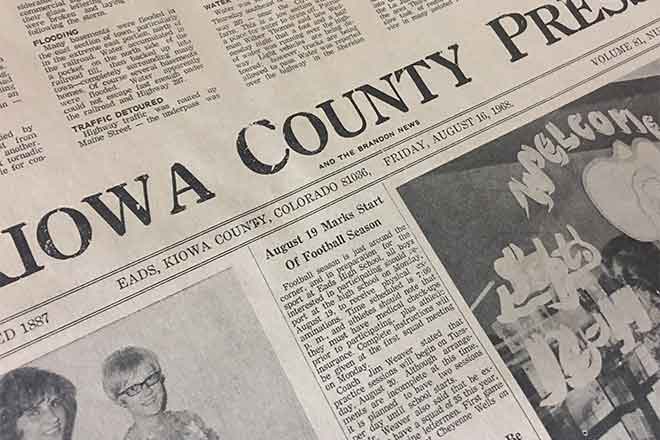 Published
Saturday, September 26, 2020
15 Year Ago
September 30, 2005
The Eads Chamber of Commerce Car Show held in conjunction with the Kiowa County Fair was a success again as 25 entered the show.
As the West End Turns- Michelle Wykoff: Blow-drying 101. Select blow dryer on ability to dry hair, not because it's your favorite color.
Wild Horse Roundup- Curtis Schrimp: What a Saturday evening. A very, very large crowd gathered at the Ernie Hammer ranch to join in their annual end of summer get together.
25 Years Ago
September 29, 1995
Kiowa County 4-H families are concluding the 1994-95 year with great pride. Membership increased by 11% to 115 members.
The Plainview High School cheerleaders will be attending the National Cheerleading competition in Dallas, Texas.
40 Years Ago
September 26, 1980
Nursing Home News- LaVerne Fischer: Residents have been busy picking tomatoes from their vines and have ended up with a bumper crop thanks to their grand gardener Mike Kasza.
50 Years Ago
September 25, 1970
Reflections-From the Press Editor's Pad: a general rain in these parts Monday and Tuesday certainly brought smiles to many faces.
The Census Bureau release its official count, with a considerable drop in Eads to 776. Kiowa County also so dropped to 2,006.
There have been three fires in Haswell this week started by sparks from the trains.
75 Years Ago
September 21, 1945
A barn and several sheds on the John Davis ranch near Haswell were destroyed by fire. A mow-full of hay, considerable mineral, cotton seed cake and five calves were lost.
100 Years Ago
September 24, 1920
Sheriff W.S. McCracken captured two bootleggers who were operating in the vicinity. They had five gallons of liquor and a Ford, all of which was taken charge of by the County.