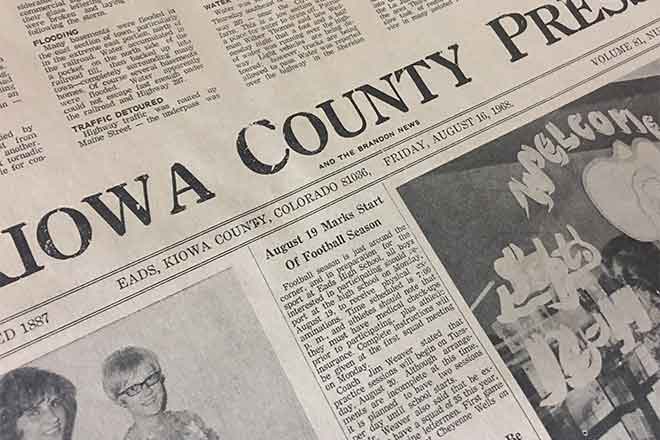 Published
Tuesday, February 18, 2020
15 Years Ago
February 25, 2005
Two arrests have been made following a pair of weekend break-ins at the Eads Country Club in which beer, cash and food were reported stolen
Kit Carson Clips- Marilyn White: I don't care for the change in the weather - 70 one day 30 the next. Some moisture would be nice.
25 Years Ago
February 24, 1995
About Town - Ida Lessenden: Johnny Weber came upon a pickup and horse trailer that had slipped off the highway. Their cargo was a pair of ostriches. They were delivering them form Saskatchewan Canada to Texas.
Towner Tales- Ann Harkness: The Kiowa Albright Hall's Annual Pancake Supper and Bingo Night will take place Friday. All-you-can-eat consists of pancakes, sausage, eggs and drink.
40 Years Ago
February 22, 1980
Mrs. Marion Wimp, Kiowa County Librarian, retires after more than 40 years of service.
Gary E. Kelley, a native of Eads, has been appointed controller of the American Red Cross in Greater New York and the Harriman Metropolitan Division.. The division comprises 40 chapters and is the largest regional administrative Red Cross unit in the United States.
50 Years Ago
February 20, 1970
An estimated $500 in saddles was taken from the ranch of Harry Owen. Sheriff Eugene Kelley said according to the tracks, a man and woman walked about 1/2 mile onto the place and carried the saddles and equipment out of foot.
75 Years Ago
February 16, 1945
Mr. & Mrs. Jack Salon of Arkansas City, Kansas, have purchased part of the restaurant equipment from Mr. & Mrs. Conner, added some of their own and expect to open the restaurant south of the tracks in Eads sometime next week.
100 Years Ago
February 13, 1920
The month of January, 14 carloads of lumber and cement were unloaded at Eads, which looks like the Foster yards is preparing for considerable building activity in the spring.
100 Years Ago
February 20, 1920
The opening of the Jackson Sub-division to Eads on the south side of the tracks finished out the platting of all the land included with the incorporation and will mean a great deal to the support of the water and light proposition