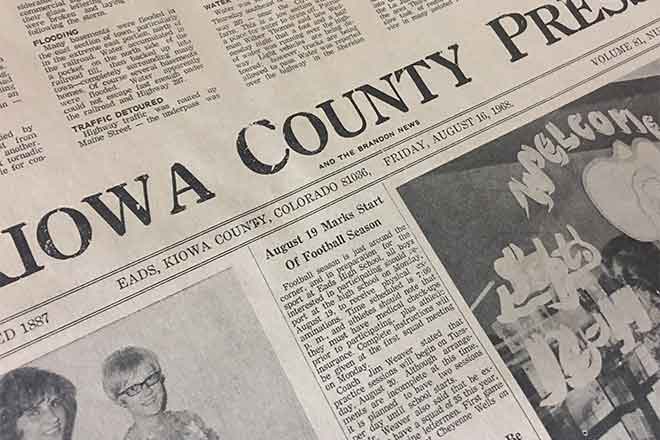 Published
Thursday, February 27, 2020
15 Years Ago
March 4, 2005
Third arrest made in golf course burglary, more expected.
Kit Carson Clips -Marilyn White: The Chili cook-off held at the United Methodist Church was a huge success. There were 22 pots of Chili and the ones I sampled were very good.
25 Years Ago
March 3, 1995
Duane "Champ" Wissel has honored as Conservationist of the Year by the Kiowa County Soil Conservation District for his outstanding accomplishment in the conservation of soil and water resources.
40 Years Ago
February 29, 1980
The Eads Lions Club held District Governors visitation and a time to celebrate the reorganization of the local club.
The new Southeast Colorado Power Association building is starting to take shape after several months of inactivity. The new facility is located on East 14th Street in Eads.
From the Sheriff's Desk -Floyd Griswould: Let this be a warning. Some minors are going to find themselves in court for drinking beer and some older boys for buying that beer.
50 Years Ago
February 27, 1970
The Plainview Hawks defeated Eads 56-52 to earn a share of the High Plains League Title. Both teams had identical overall records, wining 14 losing 4.
Brandon: A picture of one of the oil well in our Brandon Field was shown in the Sunday edition of the Pueblo Chieftain.