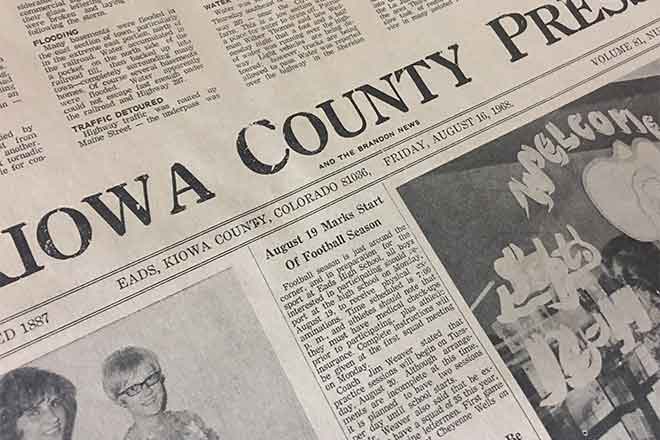 Published
Sunday, February 14, 2021
15 Year Ago
February 17, 2006
As The West End Turns- Michelle Wyckoff: Big news in the west is the Valentine Dance held at the Haswell Community Building.
About Town- Melissa Peterson and Doris Lessenden: Jason Weirich spent Valentine's Day in New York City. He braved those deep snowbanks to present his research paper regarding ways in which to combat noxious weeds.
Wild Horse Roundup- Curtis Schrimp: I took Bill Skinner to Carson as his car was a little stubborn in starting. He took along his guitar and entertained a nice crowd at the senior center.
25 Years Ago
February 16, 1996
Nursing Home News- Nellie Nichert: Did you know a small dish of vinegar in an obscure place will absorb unpleasant odors, especially cigarette odor?
40 Years Ago
February 13, 1981
The population of Kiowa County shows a decrease of 162 as of April 1, 1980.
50 Years Ago
February 12, 1971
Mr. and Mrs. Marvin Templer, Mr. and Mrs. George Jacobs, Mr. and Mrs. Edgar Jacobs, and Mr. and Mrs. Leonard Greenwell spent 10 days fishing in the Gulf of Mexico. The highlight of the trip found the party, 28 miles into the gulf attempting the art of deep-sea fishing. Their attempts proved successful in a catch of 102 red snappers.
75 Years Ago
February 1, 1946
Friends and neighbors in the community south of Galatea, joined a rabbit and coyote hunt. Reports they killed lots of rabbits and had a barrel of fun. More than 60 participated in the drive.
The Town of Eads Board of Trustees lodge formal complaint with Public Utilities Commission for force Southeast Colorado Power Association to correct faulty electrical and water service.
100 Years Ago
February 4, 1921
A tractor has been purchased by the Board of County Commissioners' to be used in keeping up with the roads in Kiowa County.
Last week was a busy week for Sheriff McCracken. He made four arrests and drove nearly 400 miles. Considering the conditions of the roads this is going some.