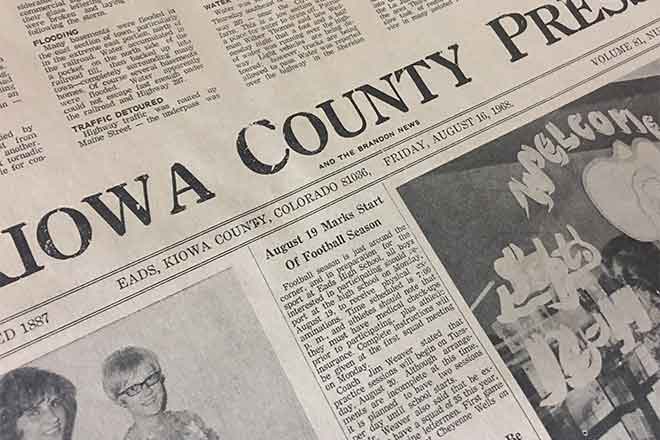 Published
Sunday, February 21, 2021
15 Year Ago
February 24, 2006
There will be a gathering of all interested persons wanting to reopen Crow-Luther Arts Center.
About Town- Melissa Peterson and Doris Lessenden: Congratulations to Adam Saffer who has been selected as a summer aide to Marilyn Musgrave in Washington D.C.
25 Years Ago
February 23, 1996
Members of Kiowa County Women Involved in Farm Economics are opposed to the merger and abandonment of the Union Pacific & Southern Pacific Railroads.
Wild Horse Roundup- Curtis Schrimp: The bookmobile was in Wild Horse and you would be surprise at the number of books checked out.
East End Event- Plainview Grade 6: Plainview NAL team will be competing in the state tournament championship against the northern champions. They also qualified for the national tournament and will play the first round in Wichita, Kansas.
40 Years Ago
February 20, 1981
Bernie Tuttle is Kiowa County Farm-Ranch Wife of the year for 1980.
Elden Reinert was named to the Western Farm Bureau Insurance Company "Million Dollar Club."
50 Years Ago
February 19, 1971
An investigation is under way in Kiowa County and Scott City, Kansas, in an effort to determine where the shooting death of a Scott City man occurred.
Area residents were pleasantly awakened by thunder and lightening, accompanied by a generous amount of rain.