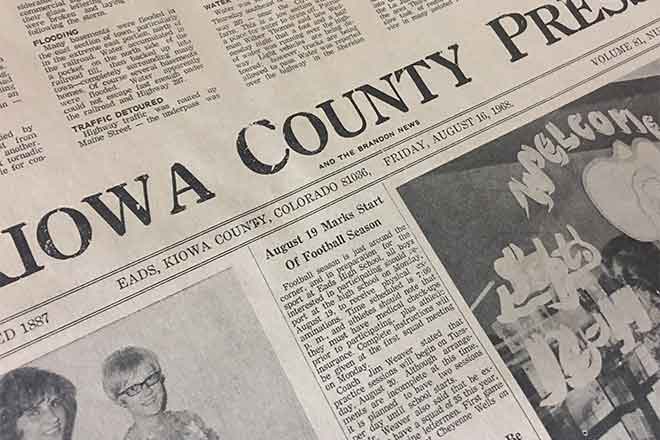 Published
Sunday, July 11, 2021
15 Year Ago
July 14, 2006
USDA Update- Rod Johnson: Most of Kiowa County precipitation totals from 2 to 8 inches have been reported. It was very welcome.
25 Years Ago
July 12, 1996
This week, the Kiowa County Press joined the Plainview School, the Town of Haswell and few other individual and entities in Kiowa County with a Home Page on the Web.
FSA Update- Rod Johnson: Wheat harvest is underway, but reports from the field are that it is a difficult harvest. Lots of green heads and weed problems are causing dockage problems.
40 Years Ago
July 10, 1981
Tempel & Esgar, Inc., of Wiley announced the purchase of the Kit Carson grain elevator facilities formerly known as the Ure Grain Company.
Construction bids for the Eads senior citizen housing complex were opened at the Eads Courthouse.
50 Years Ago
July 16, 1971
Saturday the mercury climbed to 103, and 106 Sunday in Eads.
Kiowa County ASC News: Kiowa County ASC Committee & personnel, SCS personnel and Kiowa County SCS District extends a cordial invitation to open house at our new location 10th and Wansted Steets in Eads.