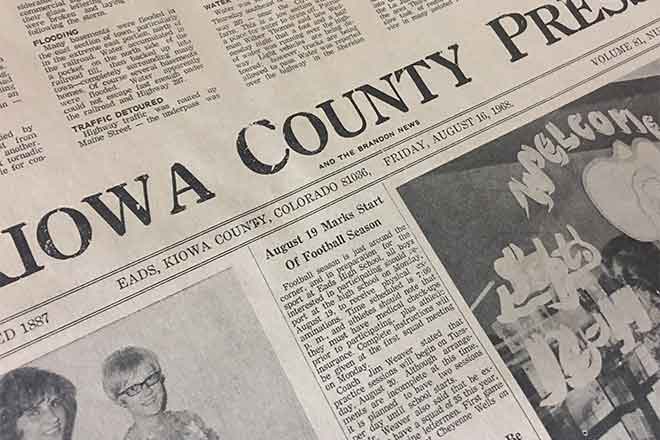 Published
Sunday, July 18, 2021
15 Year Ago
July 21, 2006
The 14U Southern Plains team won their second consecutive state championship in the 14U division beating Cortez 11-4.
Ag teacher & FFA advisor Lance Jagers takes his turn on the Dunk Tank during the Maine Street Bash.
25 Years Ago
July 19, 1996
The Colorado Water Conservation Board denied a permit to the Western Kansas Groundwater Management District to conduct weather modification activities over Colorado.
Approximately 1,000 warm-water fish in a pond located at the Hugo Wildlife Area died of oxygen depletion.
East End Events- Ann M. Harkness: News the railroad merger was allowed to proceed did not help the grim feeling that we are headed for very difficult times.
Wild Horse Roundup-Curtis Schrimp: Debbie Fisheva, reporter for the Rocky Mountain News, visited our home. She was doing an article about small town newspapers and how they get their news. She said it would be out in a couple of weeks but guess most of our readers won't see it as the News doesn't come out in the country anymore.
40 Years Ago
July 17, 1981
Metro Cable Corporation met with Eads Mayor and other member of the Town Council submitting an informal application for a cable television franchise for the Eads community.
50 Years Ago
July 23, 1971
The Colorado Fish and Game Department delivered pheasant chick in the area for 4-H member enrolled in wildlife conservation and wishing to raise pheasants as a project.
Barbara Barlow and Sheri Woods, Kiowa County 4-H members, are in Rhinelander, Wisconsin July 14-21, participating in an exchange trip.