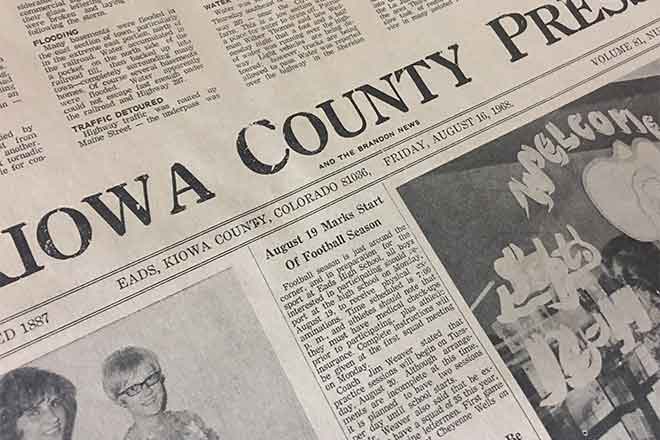 Published
Sunday, June 13, 2021
15 Year Ago
June 16, 2006
Sean Gleason from La Junta was selected in the 25th round of the Major League draft by the Boston Red Sox.
Haswell residents celebrated a refurbished city park - partly funded by a GOCO grant - with a community barbeque.
25 Years Ago
June 14, 1996
Seth Green, a teenager from Nebraska, may have caught a Colorado state record Wiper at Nee Nose Reservoir.
East End Events- Ann M Harkness & Co: Summer is beginning to make its presence known. What wheat remains is beginning to change color.
40 Years Ago
June 12, 1981
FHA has finally approved a set of blueprints for the senior citizen housing complex.
Southeast Colorado water sports enthusiast are now able to launch boats of almost any size for skiing and boating at Nee Noshe Reservoir
50 Years Ago
June 11, 1971
A badly decomposed body of a 45-year-old man from California was found in a field north and west of Sheridan Lake, an apparent suicide.
100 Years Ago
June 10, 1921
The Star Barber Shop opened for business this morning with two good barbers.
Eads is to have a tourist camping ground located on the Davis block northeast part of town.
The last report from Pueblo shows that city slowly recovering from the devastating floor of last Friday. The flood came on down the river, doing damage at La Junta, Rocky Ford, Las Animas, Lamar and smaller towns between.