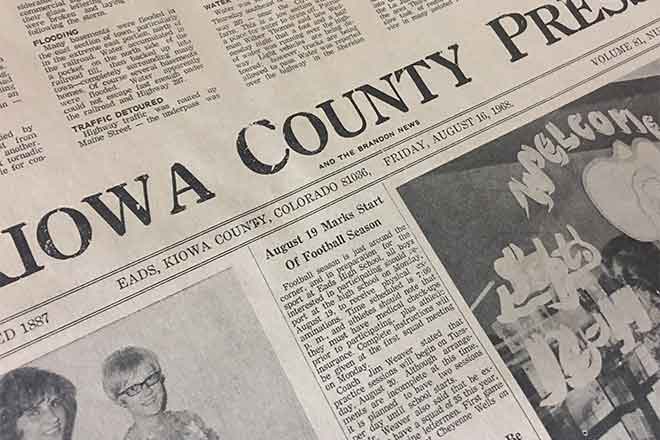 Published
Sunday, March 7, 2021
15 Year Ago
March 10, 2006
USDA Update- Rod Johnson: three of us in the office read the post card before mailing it to producers. None of us noticed we failed to included location of the meeting.
East End Events- Lana Weber. The Plainview Juniors and Seniors had a great time walking around Denver and the Capitol Building.
About Town- Melissa Peterson & Doris Lessenden: We have a separate season within spring called mud season.
25 Years Ago
March 8, 1996
Nursing Home News- Nellie Nickert: I think everyone has a bit of gambling in the blood, for all the activities offered; bingo has the most enthusiastic attendance.
40 Years Ago
March 6, 1981
Although the much-needed moisture was welcome to almost everyone, it did cause some minor problems for Southeast Colorado Power Association.
Miss Tammy Stowell and Sebrina Brandfas, of Eads, have been selected as finalist in the Miss National Teenage Pageant.
George Blackburn and Kelley Jackson, both of Kiowa County, were honored at the annual Cattlemen's meeting. Blackburn and Jackson were named life-long members.
50 Years Ago
March 5, 1971
Kiowa County official population 1970 was 2029 down 16.3% from the 1960 census figure of 2425.
Everett Wayne (Dusty) Tallman, a junior at Cheyenne Wells, was chosen for the National Honor Society. He was the only boy, with nine girls inducted into the Honor Society this year.