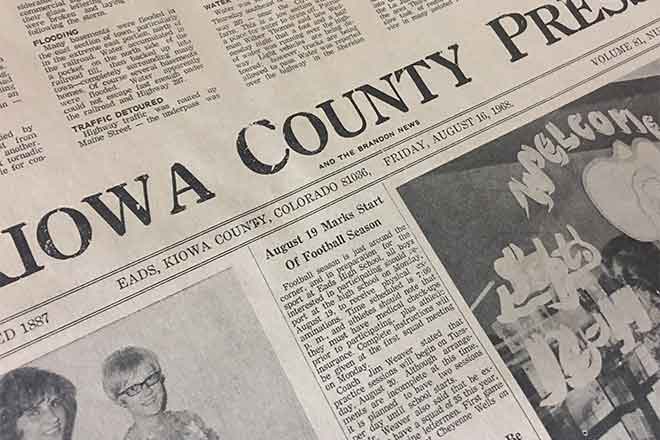 Published
Sunday, May 2, 2021
15 Year Ago
May 5, 2006
Early morning, two individuals broke in to Kiowa Drug in an attempt to acquire prescription drugs.
Wild Horse Roundup- Curtis Schrimp: We saw a rare sight when a train went through being pulled by a big steam engine. I followed it to Sorrento and quite a few people were doing the same and taking pictures. I forgot my camera.
25 Years Ago
May 3, 1996
East End Events- Plainview 6th Grade: Tallman's new John Deere tractor, with just 51 hours, caught fire while they were farming. The stickers were so bad they got hot and started the fire.
Wild Horse Roundup- Curtis Schrimp: A group from Kit Carson boarded a tour bus and headed to Branson, Missouri. They said it was a fun time from the time they left til they got back.
40 Years Ago
May 1, 1981
Although there was no actual fire damage to Sheridan Cafe or Voss Conoco, heavy smoke and water force the cafe to close for cleanup. It is suspected a compressor shorted and caused the blaze.
Sheridan Lake Ripples- Elsie E. White: Spectators who filled the Plainview gym to watch the donkey basketball game enjoyed themselves.
Eads City Hall received a new "Easter Bonnet." A new pitch roof was installed by Haswell Lumber Co. The old flat had been leaking for several years and was beyond repair.
50 Years Ago
April 30, 1971
The Sheridan Lake Livewires 4-H club planted approximately 450 trees in a 4-row shelter belt north of C.W. Williams home south of Brandon.
75 Years Ago
April 26, 1946
Wilma Cussins, 8th grader from Haswell, won the county spelling contest. Keith Lohoff, 7th grader from Towner, was second.
Southeast Colorado Power Company and the people of Eads were very much disappointed in developments at the new deep water well drilled here. The machine was first set above perforations in the casting and, after running a while, the flow dropped to about 10 gallons per minute, but remained steady. The pump was lowered in hopes of increasing the supply.
100 Years Ago
April 22, 1921
More lawyers were in Eads during the session of court than ever before in the history of the town. They were from Denver, Pueblo, Ordway and Lamar.
The Kratz Land & Title Company closed their office here, but plan to do land business through their Sydney, Nebraska, office.