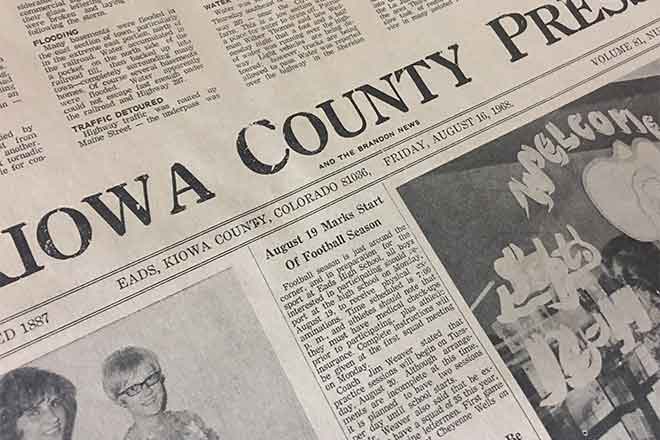 Published
Sunday, May 23, 2021
15 Year Ago
May 26, 2006
Member of the Kiowa County Sheriff's Office executed a search warrant at residence in Brandon on information pit bulls were being trained and used for dog fighting.
25 Years Ago
May 24, 1996
Graduating ceremonies were held in area schools. Plainview 9, Kit Carson 14, and Eads 17
40 Years Ago
May 22, 1981
Doris Anderson, President of Kiowa County Extension Homemakers Council, presented Mrs. Muriel Anderson and Mrs. Iva Lee Barnes with their 50 Year Membership Certificate.
50 Years Ago
May 23, 1971
Miss Julie McKnight is scheduled to appear on "Romper Room," televised on KKTV Channel 11.
75 Years Ago
May 3, 1946
Several local business firms have recently improved the appearance of their establishments by installing neon signs and decorations.
May 10, 1946
Elections in several school districts were held. District 1, Eads, Joe Barnett received all 11 votes to succeed himself. Haswell re-elected Ashley Doak by a large majority and he brags about his opponent having received 1 vote, presumably her own.
100 Years Ago
May 6, 1921
The Kiowa County Abstract Company moved into their new building just west of the courthouse.
May13, 1921
Work on the church basement is delayed for a few days awaiting the shipment of reinforcing iron. The excavation is about completed and cement work is soon to begin.