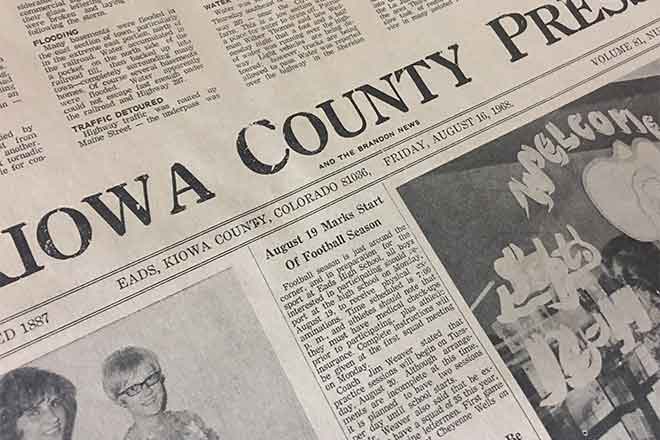 Published
Sunday, August 7, 2022
15 Years Ago
August 3, 2007
USDA Update- Rod Johnson: There are still areas that are very dry and summer crops are suffering but generally crop prospects are still good for the fall harvest.
The 16U Southern Plains softball team won their third consecutive Midwest Plains Regional tournament in Benton, Missouri.
25 Years Ago
August 1, 1997
Over 190 young people participated in four performances of the 18th Annual Kiowa County Little Britches Rodeo.
Due to recent heavy rains in Kiowa County and eastern Colorado, many county roads have been flooded or sustained rutting or other damage.
40 Years Ago
July 30, 1982
Jack Gardner, "Stage Manager" of the "new" Plains Theatre, has been busy remodeling the theatre for the past past months, set reopening with several new features. Jack has booked "Chariots of Fire" for his grand opening.
From the Sheriff Desk- Floyd Griswould: Lightening hit a haystack belonging to Ted Addington. A stack of some 3,000 bales burned to the ground. Lightening also hit a power transformer near the Garvey Farm and the Farm Co. Elevator in Sheridan Lake.
From the Sheriff Desk-Floyd Griswould: Flood water, some 18 inches deep, crossed the highway 96 west of Sheridan Lake.
50 Years Ago
August 4, 1972
A number of unusual vehicles are being used in conjunction with the weather and atmospheric experiment in progress at the National Bureau of Standards tower south of Haswell.