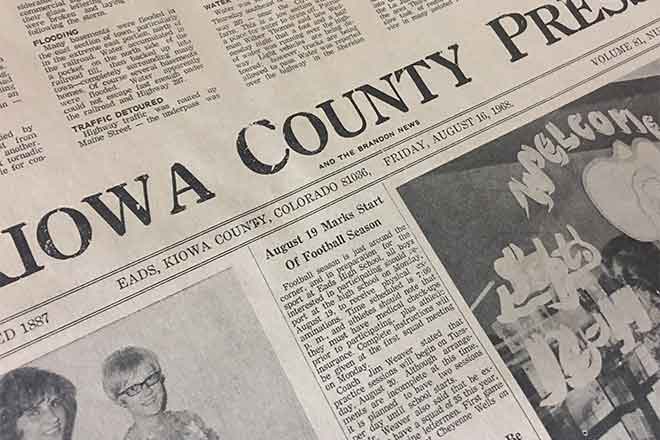 Published
Sunday, July 3, 2022
15 Years Ago
June 29, 2007
The Holly Recovery Task Force is asking that no more donations of food, clothing, furniture, or appliances be sent to the people of Holly.
The Colorado Junior Rodeo Association will host a youth rodeo at the Kiowa County Fairgrounds.
The Colorado USDA Natural Resources Conservation Service has allocated $500,000 in EQIP dollars to Lower Arkansas River Watershed for resource recovery.
About Town- Melissa Peterson & Doris Lessenden: Over 30 folks made it to the outdoor "drive in" located on the lot north of the Kiowa County National Bank for "The Last Time I Saw Paris."
25 Years Ago
June 27, 1997
Eads received over two inches of rain in less than an hour. As much as three inches of rain was reported north of Chivington and little as half an inch three miles south of Eads. Highway 287 was closed briefly when a car stalled in deep water.
Cody Fox traveled to the Colorado State High School Rodeo Association State Finals and came home with three state championships and a reserve championship. Fox was the All-Around Cowboy for the 1996-97 rodeo season.
40 Years Ago
June 25, 1982
The Bread Basket Cafe, a brand new restaurant in Sheridan Lake, will be open 6:00 a.m. to 9:00 p.m. daily. P.E. (Buck) and Helen Harris invite everyone to stop by for a cup of coffee and donut opening day, June 28.
Craig Hindes, manager of Tallman Grain Company, Inc. has announced the grain elevators are now open to the public. The company has been in business since 1947, but closed to the public in the 1960s and utilized for family operations.
TJ's Super 'C', a completely new and well stocked-convenience store, will open its doors June 28. TJ's is located at the corner of Maine Street and highways 287/96 in Eads
50 Years Ago
June 30, 1972
The Towner Lions Club will hold their annual 4th of July Ice Cream Social at the Plainview School.
A Kansas youth was jailed after taking a Lamar Oil Company truck from the Sheridan Lake Shamrock station. At the east edge of Eads, he stopped, put the truck in low gear, pushed the gas pedal down with a box holding in place. The youth got out, and let the truck go on its own. The truck traveled several hundred feet and tore up SECPA lines and poles, which resulted in outage for Eads and the vicinity.
75 Years Ago
June 27, 1947
The Pioneer Cafe operated for several months by Gerald Barlow has been purchased by Bryan Buck. The establishment was then leased to Mr. & Mrs. Elvin Hirschler, who plan to operate it from 3:00 a.m. to 10:00 p.m. each day.
100 Years Ago
June 30,1922
Eighty-five cents to 90 cents is being offered for wheat at Eads this week.
The first annual ever published by Eads High School is now ready for distribution. It contains 64 pages of matter relative to the mighty deeds of the class of 1922.