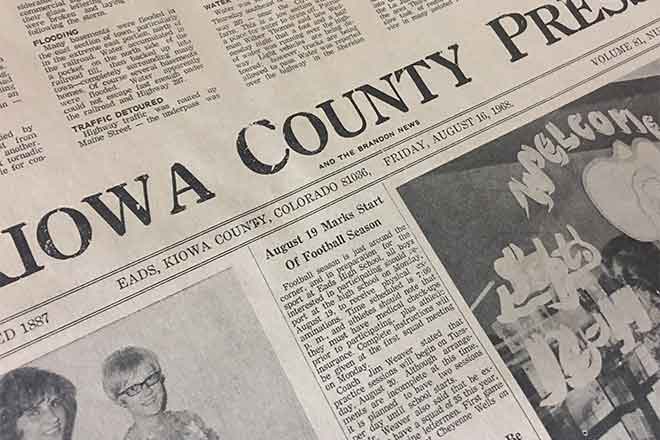 Published
Sunday, June 19, 2022
15 Years Ago
June 15, 2007
USDA Update- Rod Johnson: Kiowa County was buffeted by high winds, but only minor soil erosion was noted on some fields.
Wild Horse Roundup- Curtis Schrimp: The KC Electric annual meeting was held, and our group did pretty good at the prize drawing. My name wasn't called so I just ate some free donuts.
25 Years Ago
June 13, 1997
Eads Town Board were informed the contractor selected to construct restrooms at the roadside park would like to "walk away" from contract because an error in calculating bid
About Town- Ida Lessenden: When we passed the lakes on 287, we were amazed at the hundreds and hundreds of boats on the lakes.
40 Years Ago
June 11, 1982
The construction of cable TV has finally begun in Eads. Cable TV will bring additional 5 channels to the existing 4 with capability of 20 channels.
50 Years Ago
June 16, 1972
At least 35,000 Coloradan would like the opportunity to vote on the question to hold or not to hold the 1976 Winter Olympics.
The addition of two-way radio system provides the public with better and faster service through the Extension Office.
75 Years Ago
June 13, 1947
It was a great disappointment to Eads citizens to watch the test of our new water well pump a good flow for quite a while then turn to salt water and fizzle out.
100 Years Ago
1922
M.W. Boyce has announced that he will run for Sheriff of Kiowa County subject to the decision of the Republican voters.
The Commerce Clubs reports that a drinking fountain is to be placed on the corner in front of Nee-No-She office and tough for horses will be made across from the lumber yard.