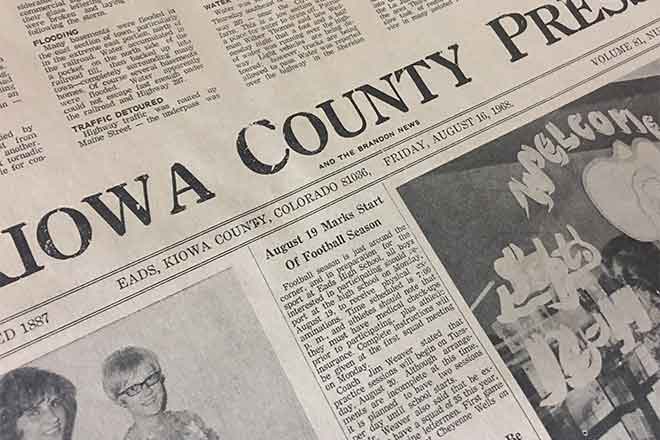 Published
Sunday, May 1, 2022
15 Years Ago
April 27, 2007
The dedication of the Sand Creek Massacre National Historic Site - the nation's 391st National Park Service - unit was held.
About Town- Melissa Peterson & Doris Lessenden: Those mad cap Hatters sojourned to Pueblo to attend a regional anniversary "hoot," and a hoot it was!
25 Years Ago
April 25, 1997
The Kiowa County Fair Board received a major grant from the Colorado Tree Coalition to continue the Kiowa County fairground master planting plan. Volunteer groups and individuals are needed to assist in planting.
40 Years Ago
April 23, 1982
The lack of interest of anyone seeking a seat on the Kiowa Hospital District may cancel the election.
Members of the Eads first grade class took a short tour of the Kiowa County Press and learned how a newspaper was put together "in the olden days."
50 Years Ago
April 28, 1972
Janet Richards was the winner of the Kiowa County Spelling Contest and will represent Kiowa County in Denver. First runner up was Tracy Atha-Eads, second runner Up Craig Williams-Plainview, Beverly Splitter-Plainview, and Pam Hendricks-Eads.
The Colorado Department of Transportation began work on the railroad overpass at the junction of Highway 287 and 40 just east of Kit Carson.
Army Private First-Class Vernon W. Koch, son of Mr. & Mrs. Donald Koch, received the Combat Infantryman Badge in Vietnam.
100 Years Ago
1922
The Foster Lumber Company is replacing the fence to their yards, which was blown down in the blizzard.
The new Hines Restaurant served 120 people at their opening. They only expected 40 to 50.