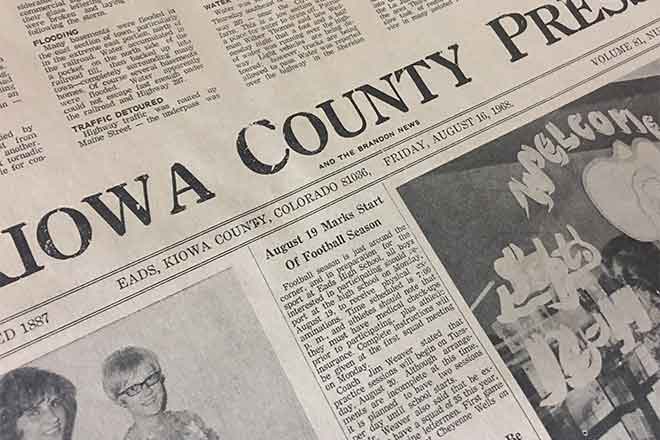 Published
Sunday, May 15, 2022
15 Years Ago
May 11, 2007
The Colorado Division of Wildlife stocked 500 Rainbow Trout in Jackson's Pond. Saturday, 55 youngsters tried to encourage the fish from the water. Judging from the smiles and stories told the kid had a great time.
25 Years Ago
May 9, 1997
The Kit Carson Women's Aglow has started a relief fund at the Kit Carson State Bank for North Dakota Flood Relief.
40 Years Ago
May 7, 1982
Two "write-in" candidates were elected to the Kiowa County Hospital Board during a light turnout. LaVerle Kelley and Donna Owens were elected to serve a four-year term on the board.
D & R Locker and Custom Slaughtering Service Plant is undergoing an expansion program which is hoped to be completed in the near future.
50 Years Ago
May 12, 1972
Connie Crow, daughter of Mr. & Mrs. Ray Crow, was awarded the Crisco Trophy for her outstanding work in Homemaking at Eads High School.
Christine L. Brenton was the Denver Press Club-Mile High Kennel Club Scholarship winner.
Eads First Graders Read 1,882 Books.