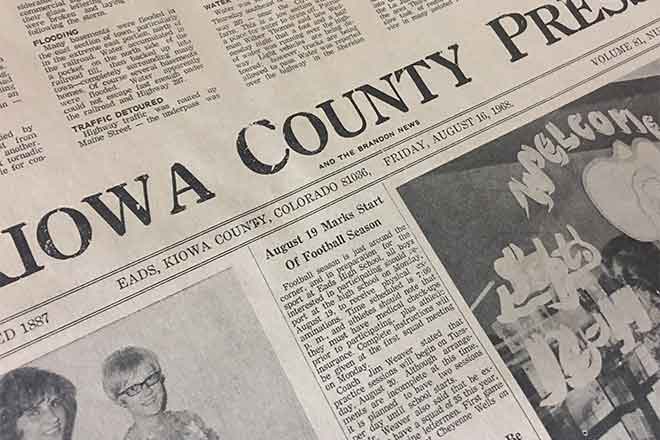 Published
Sunday, January 15, 2023
15 Years Ago
January 11, 2008
The Kiowa County Sheriff's Office was selected to receive a Commercial Equipment Direct Assistance Program award. The award covers approximately $39,000 for equipment and training related to a new record management system.
The Colorado state chapter of Dog and Cat Lovers of America, in partnership with IPOC, announce $1,000 cash grand prize in the 2008 Spring Cutest Pet Photo Contest.
Prairie Pines January Special - Senior Citizen - $3 /swim.
25 Years Ago
January 9, 1998
Amity Canal Company has been routing water into Sweetwater Reservoir over the past few weeks since John Martin Reservoir is near capacity.
About Town- Ida Lessenden: A number of Eads senior citizens enjoyed supper and an evening of playing cards at the center New Year's Eve.
Wild Horse Roundup- Curtis Schrimp: I stayed up 'til midnight and saw some of the fire words on Pikes Peak.
40 Years Ago
January 14, 1983
In the early morning ceremony, held in the courtroom of the Kiowa County Courthouse, County Judge Keith Wissel conducted the official swearing -in ceremonies of the recently elected county officials.
Two headed calf was born on the Raymond Eder farm but died during the night. A two headed calf is a rarity and this is only the second one born in Kiowa County during the past 4 years.
50 Years Ago
January 12, 1973
Kiowa County showed a 4.7 percent increase in total industries' sales according to business research division at University of Colorado.
The Kiowa County Sheriff's Office is planning to purchase two new portable radios in the near future.
Farmers in Kiowa County stand to lose $24,000 in the elimination of the Rural Environmental Assistance Program.