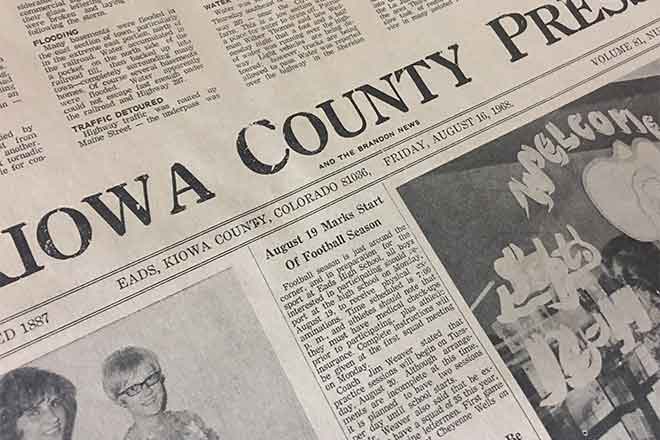 Published
Sunday, May 7, 2023
15 Years Ago
May 2, 2008
Postage prices go up May 12. US First Class one ounce will increase one penny, from 41 to 42 cents.
25 Years Ago
May 1, 1998
AD: Taste-A-Treat Something New Ice Cream Cakes in three sizes
The Kiowa County Senior 4-H Livestock Judging team placed third in a good invitational contest at Rocky Ford.
40 Years Ago
May 6, 1983
By a vote of 5-2, the RE-1 School Board voted to close the Haswell Elementary School.
According to the Kiowa County Commissioners, plowing upon, or otherwise damaging or obstructing county and other road rights-of-way is illegal and will be subject the offending party to criminal penalties.
50 Years Ago
May 4, 1973
At least 250 horses are expected to be entered in the annual running at the Buffalo Meadows.
75 Years Ago
April, 1948
The Kiowa County Commissioner announced a bounty of $2.50 for each pair of coyote ears brought in by local people.
100 Years Ago
April, 1923
Harry Davis is the first one to plant potatoes in the Prairie Queen neighborhood.
A big dance was pulled off at Arlington. John Barleycorn was in evidence as shown by the empty bottles.