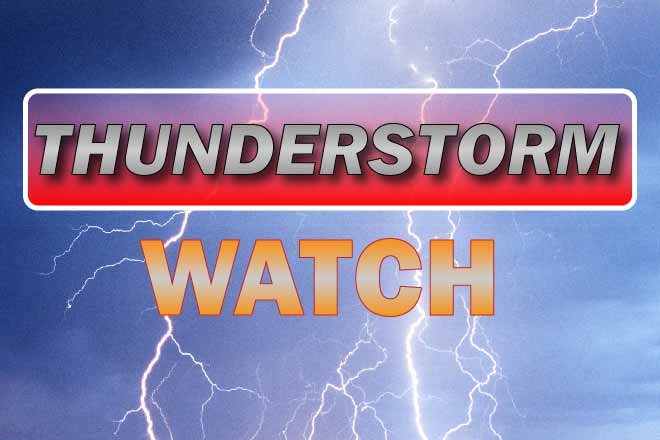 Published
Saturday, August 17, 2019
The National Weather Service has issued a severe thunderstorm watch until 10:00 p.m. Saturday for three northeast and east central Colorado counties. Portions of Kansas and Nebraska are also included.
Isolated to scattered severe thunderstorms are expected across the warned area.
Shortly before 2:00 p.m., a severe thunderstorm warning was already in effect for eastern Elbert County. That storm, located west of Limon, was expected to bring 60 mile per hour gusts and quarter-size hail. Additional storms were forming in Lincoln and Kit Carson counties north of Interstate 70.
Heavy rain, hail, and winds gusting 50 to 70 miles per hour are possible in the warned area. Hail could be larger than two inches in diameter. Areas that have received heavy rain over the past week may have saturated soils, increasing the risk for flash flooding. Tornadoes are not expected with Saturday's storms.
Colorado counties included in the thunderstorm watch
Elsewhere in Colorado, red flag warnings are in effect for high fire danger. Most northwest and west central counties are covered by the warning, which continues until 8:00 p.m. Saturday. Strong winds, dry fuels and low relative humidity, along with high temperatures, are creating conditions where any fires that start could spread rapidly.
The central mountains, San Luis Valley and Fremont County are also at high risk for fire starts.