Image
Pine Gulch Fire now nearly 24,000 acres, evacuations ordered in Garfield County
The Pine Gulch Fire, which was started by lightning in Mesa County, has reached 23,882 acres and seven percent containment as of Sunday morning despite weather conditions that challenged firefighters. The fire is also impacting neighboring Garfield County, where eight homes are under pre-evacuation orders, and other home have been evacuated.
Image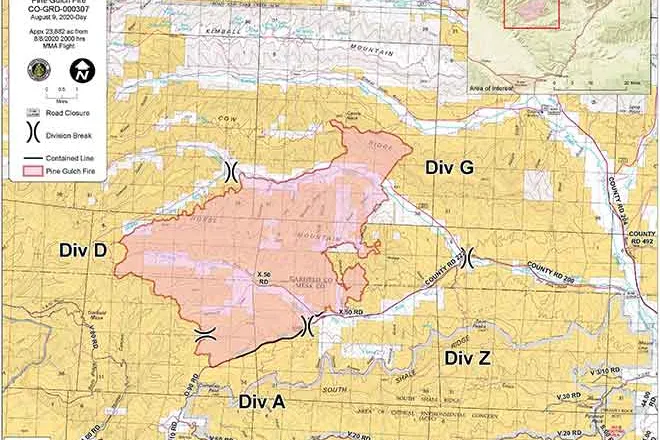 More than 470 firefighters are working the blaze, located about 18 miles north of Grand Junction, which, over the past week, has been driven by high temperatures and strong winds. Temperatures in the mid-90s are forecast in the area for Sunday afternoon, and expected to continue throughout the week. Rain is not in the forecast, while wind gusts to 15 miles per hour are expected. Wind will be slightly weaker than Saturday, when gusts to 20 mph occurred. Humidity is also expected to fall as low as eight percent later in the day.
Hot, dry conditions are expected to continue Monday; however, winds are predicted to weaken further.
Crews were able to hold and improve fire lines Saturday using hand crews and heavy equipment, completing a line along the southwest corner of the fire's perimeter. Air resources are also being used to help contain the blaze. Firefighters will patrol containment and fire lines Sunday while looking for other opportunities to secure the fire.
Image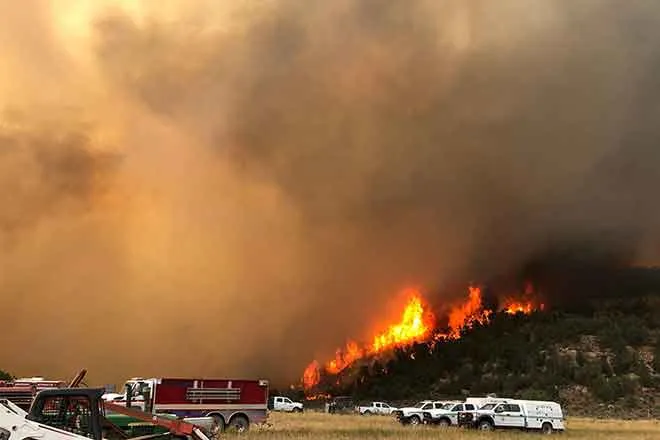 The fire, which is expected to continue growing, is burning in a mix of pinyon, juniper and oak trees along with sage brush, and is generally spreading toward the northeast.
As of Sunday morning, Garfield County has issued evacuation orders for a small number of homes along County Roads 200 and 202, and pre-evacuation orders for County Roads 204, 207, 209 and Clear Creek Road. Residents in the pre-evacuation area have been advised to pack essential items and be ready to leave at any moment. The fire is burning in a remote, rugged area with relatively few homes.
An air quality health advisory, issued by the Colorado Department of Public Health and Environment, is in effect for Mesa and Garfield counties through at least Monday morning. Smoke is flowing through the valley into De Beque and along Interstate 70 from Rifle to Grand Junction. Moderate to heavy smoke could cause breathing difficulty for people with respiratory illnesses, children, and people who are elderly. Outdoor activity should be limited.
Mesa County Road 200 is closed at the Mesa-Garfield county line to nonessential vehicles. A second closure was added Saturday on County Road 202 at County Road 204. Temporary flight restrictions are also in place over the fire, which includes drones.
Fire danger in the area remains high, and Stage 1 fire restrictions are in place for Mesa and Garfield counties. Stage 1 restrictions are also in effect for Bureau of Land Management land covered by the Grand Junction Field Office.
The Rocky Mountain Type 2 Incident Management Team Black, headed by Troy Hagan, has been in charge of battling the fire since Tuesday. The fire was first reported July 31.