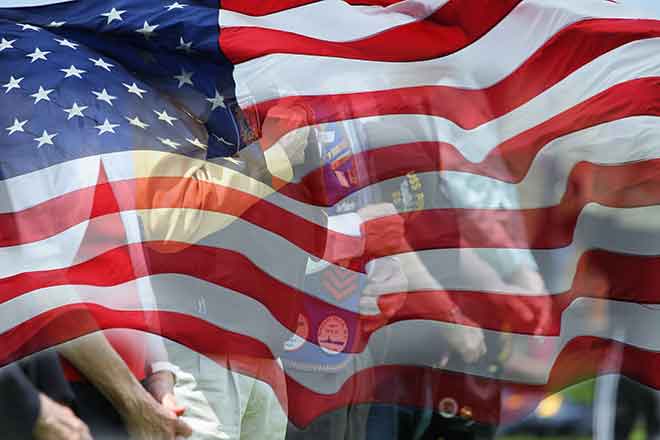 Published
Saturday, November 14, 2020
Quilters from the immediate area got together in early October 2020 to make plans to see how many quilts could be made to be awarded to veterans at the November 11, 2020, American Legion Post #125 Veterans dinner.
Individuals worked franticly to get 10 quilts done. Sadly, because of the COVID-19 coronavirus, the dinner was cancelled at the last minute.
The individuals from this quilt group are doing all they can to get the quilts to the awardees as soon as possible. We regret the award could not be given during the Veterans' dinner so that the awardees get recognition.
The following are the Veterans who are being awarded a "healing" quilt in 2020.
Gary Aughenbaugh
Clifford Johnston
Lowell Johnston
Robert Miller
L.D. Nelson
Merle Shalberg
Denis Weber
Richard West
Carrol Williams
Bob Woods
Pictures of the recipients with their quilts, as well as pictures of the quilters, will appear in a future edition of the Kiowa County Press.
The Quilts of Valor Foundation was started in 2003 by Catherine Roberts, whose son was in Iraq. She had a dream of a young soldier sitting in utter despair. Then she dreamed of wrapping him in a quilt. The quilt changed his demeanor to one of hope. The message of her dream: Quilts = Healing
The first Quilt of Valor quilt was awarded in November 2003 at Walter Reed Army Medical Center to a young soldier from Minnesota. On that same day, 150 Quilts of Valor quilts were awarded at Walter Reed to physically wounded and 150 were awarded to those struggling with psychological/emotional trauma and distress. From January 1 through October 31, 2020, a total of 17,556 Quilts of Valor quilts have been awarded.
Since that time, specifications have been made regarding membership to the organization. Group membership has become costly, along with each member of the group paying a membership. These funds allow the Foundation to carry the administrative costs for acquiring licenses, permits, renewed corporate filings, and covering events with general liability coverage. It is illegal for anyone to award a quilt under the Quilts of Valor name without belonging to a franchised Quilts of Valor group.
Those making Quilts of Valor quilts are required to make them a specific size, they must be labeled with required information, must be awarded (this is not a gift), and must be recorded by the Group.