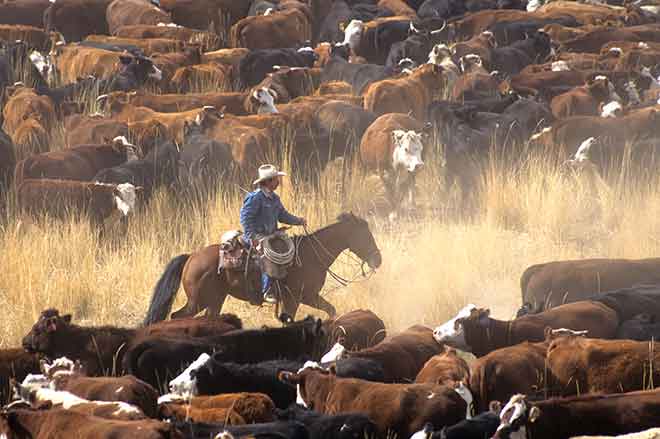 Published
Saturday, January 25, 2020
By Bethany Blankley | The Center Square
Ranchers in Oregon, Washington and Kansas have been battling the federal government over property rights and conservation efforts for decades.
The states argue that in most cases, landowners know best how to manage their own land, not bureaucrats in Washington, D.C.
In Kansas and Washington, ranchers filed a motion to intervene over recent changes to endangered species' policies proposed by the U.S. Department of the Interior.
Ken Klemm, a Kansas rancher who has raised bison for more than 20 years and has also restored his land to support native species, supports the change.
Under previous rules, strict regulations curtail ranchers' efforts to preserve endangered species or restore habitats and fully use their property, resulting in little to no benefits for endangered or native species. The new rule change reinstates the Endangered Species Act's two-tiered protection system, which supporters argue incentivizes property owners to aid in recovering species while also protecting their property rights
However, 17 states and environmental groups disagreed and sued the U.S. Department of the Interior with the intent of overturning the rule change.
"The new regulations are critical protections for property owners and provide much-needed incentives for the recovery of endangered species," Jonathan Wood, a senior attorney at Pacific Legal Foundation, which represents Klemm, said in a statement. "If the court strikes them down, it will be a major loss for property rights and conservation."
In other cases, the Environmental Protection Agency (EPA) is using the Clean Water Act (CWA) to prevent private conservation projects on rivers and creeks in the Pacific Northwest, the Pacific Legal Foundation (PLF) argues.
Curtis Martin, a farmer and rancher who owns property near Vale, Oregon, partnered with the Natural Resources Conservation Service to make a series of ecological improvements to a creek on his property that was eroding and causing damage. The changes created safe habitats for wildlife and improved groundwater supplies, which enabled him to place diversion pipes to help fill his cattle troughs.
Instead of rewarding the partnership for environmental stewardship, the federal Environmental Protection Agency (EPA) has defined Curtis' creek as "navigable waters," putting it under federal control and oversight. Meaning, Curtis would be required to pay for government permits to make any changes or uses of a creek on his property, including ecologically beneficial restoration projects. The permits often can take months or years to obtain, and cost in the range of hundreds of thousands of dollars.
Two Washington ranchers, Vic Stokes and Sam Ledgerwood, are also battling the EPA over the definition of water on their land. The ranchers have also pursued conservation projects, including working with the Colville Tribes and the Pomeroy Conservation District, to improve the habitat around their creeks for fisheries and other wildlife. Their efforts have helped prevent erosion and expand native habitats, they argue.
Yet the EPA is also trying to define creeks on their land as "navigable waters," which would end their conservation efforts among others.
According to the PLF, also representing Ledgerwood, he says, "I manage the entire watershed on my ranch to improve water flow and conserve the entire landscape, not just the farmed fields."
PLF represents the Oregon Cattlemen's Association (of which Curtis is a member) and the Washington Cattlemen's Association (of which Stokes and Ledgerwood are members) in separate court battles to defend their property rights.
"For too long, the EPA has used the sword of the CWA to trample on property rights and take control of private land regardless of the cost (to landowners or the environment)," the PLF maintains.