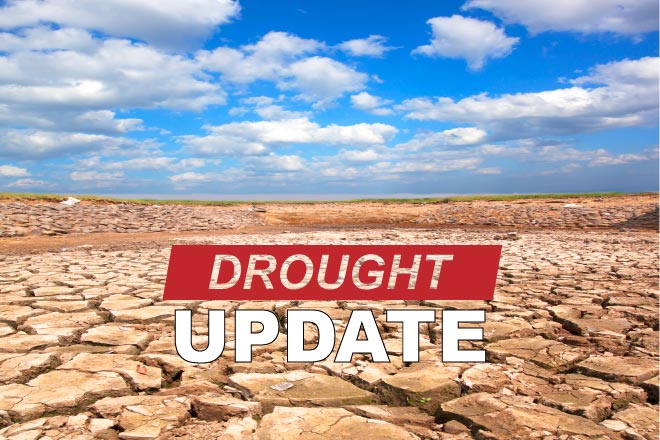 Published
Sunday, March 21, 2021
Following last weekend's storm system that brought wet snow or rain to much of eastern Colorado, the state's drought map has shown some signs of improvement according to the National Drought Mitigation Center.
The western half of the state saw little moisture and virtually no change in drought conditions. Much of the area is in extreme or exceptional drought, though parts of the southwest are experiencing severe conditions. Eastern portions of Jackson and Grand counties were on the edge of the storm system and move from extreme to severe drought.
The most notable improvements came in northeast Colorado, where areas of extreme drought received enough moisture to fall to severe or, in some locations, moderate conditions.
Central Larimer County moved from severe conditions to abnormally dry, along with portions of northern Weld and northwest Logan County. Severe drought remains in portions of Grand, Teller, El Paso, Pueblo, Crowley, Kiowa, Lincoln and Elbert counties.
In the southeast, severe conditions remain in Las Animas, Baca, and Prowers counties. Central Kiowa County, centered on Eads, had been the sole location on the Eastern Plains to remain in exceptional drought, however, after receiving an inch and a half or more of rain, the area moved into extreme drought. Most other portions of the County that had been in extreme conditions moved to severe drought.
NDMC reports that, across the region, the weekend's strong and slow-moving low pressure system brought widespread heavy precipitation - more than two inches liquid equivalent - to northeast Colorado, southeast Wyoming, southwest South Dakota, northern Kansas, and much of Nebraska. Denver received 27.1 inches of snowfall March 13-14, making it the fourth largest snowfall on record.
The heavy snowfall brought snow water content close to average for mid-March across most of Colorado and Wyoming.
Overall, 15 percent of Colorado is in exceptional drought, while another 24 percent is experiencing exceptional conditions. Severe drought covers 33 percent of the state, with an addition 24 percent in moderate drought. Just four percent of the state is abnormally dry, and there are no drought-free areas.
Last week, 16 percent of the state was in exceptional conditions, with an additional 41 percent in extreme drought. Thirty-two percent of Colorado was ranked in severe drought, while 10 percent was in moderate conditions. Only one percent of the state was abnormally dry in last week's report.
Nearly 4.8 million people are living in drought-impacted areas of Colorado.
Early in the summer of 2019, the state was in an eight-week span of drought-free conditions - the first time Colorado had been clear from all levels of drought and abnormally dry conditions since records became available starting in 2000. As much as 77 percent of the state has fallen into the extreme and exceptional categories within the past year.
Drought classes include (ranked from least to most severe) D0 - abnormally dry, D1 - moderate, D2 - severe, D3 - extreme, and D4 - exceptional drought.
Colorado Drought by the Numbers

Week

Date

None

D0

D1

D2

D3

D4

Current

3/16/21

0

4

24

33

24

15

Last Week

3/9/21

0

1

10

32

41

16

3 Months Ago

12/15/20

0

0

6

18

49

28

Start of Calendar Year

12/29/20

0

0

6

18

49

28

Start of Water Year

9/29/20

0

1

10

36

50

3

One Year Ago

3/17/20

30

23

44

3

0

0