Image
Rough winter conditions mean reduction in Wyoming's pronghorn antelope hunting licenses
(The Center Square) – Adverse conditions impacting population sustainability led Wyoming's Game and Fish Department to reduce the number of pronghorn antelope hunting licenses available this year.
Pools from which licenses are being drawn have diminished by 18%, which amounts to 9,000 less antelope licenses this fall, according to Doug Brimeyer, deputy chief of Wildlife for the Game and Fish Department.
"We reduced those licenses because there's not an abundance of animals out there," Brimeyer told The Center Square.
Pronghorn antelope populations have suffered for a few reasons.
"We've had some severe winter conditions," Brimeyer said. "That followed on the heels of some really dry growing season conditions, so a lack of moisture during the growing season really reduces the amount of available forage for our pronghorn and then their reproduction is reduced."
A decreased rate of survival among adult pronghorn added to the decline, Brimeyer said.
Image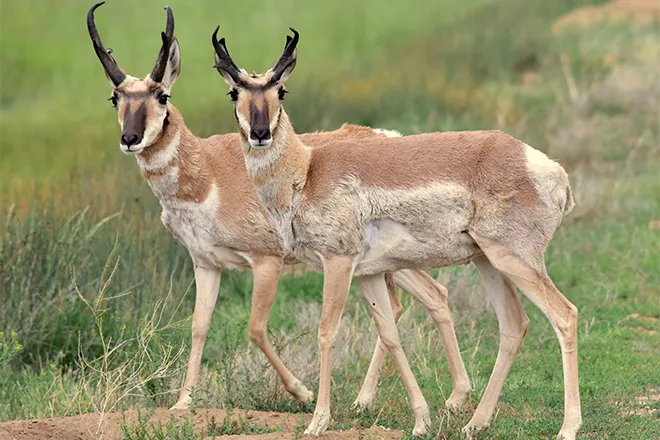 Brimeyer also said it is a localized effect with some areas seeing more of a decline than others and the reductions will reflect that.
"With hunting seasons, our managers monitor populations and the reproduction of those populations," he said. "It's an adaptive approach to management, and so you make recommendations and you monitor what that population does."
Brimeyer assured hunters that those who draw licenses will still have a good quality hunt.
"There's still excellent opportunity to hunt," Brimeyer said, "The population of Wyoming is still around 375,000 antelope and we manage to maintain a high-quality hunt but to not impact the population."
Experts hope the populations will rebound if spring conditions improve this year, Brimeyer said.
Pronghorn antelope are good at rallying.
"Each doe has a set of twins so the capacity to recover is really very good for pronghorn so we're optimistic," Brimeyer said.
Also affected by the adverse environmental conditions is Wyoming's mule deer population, although not as severely as the antelope. Brimeyer said to expect a reduction in mule deer licenses as well.