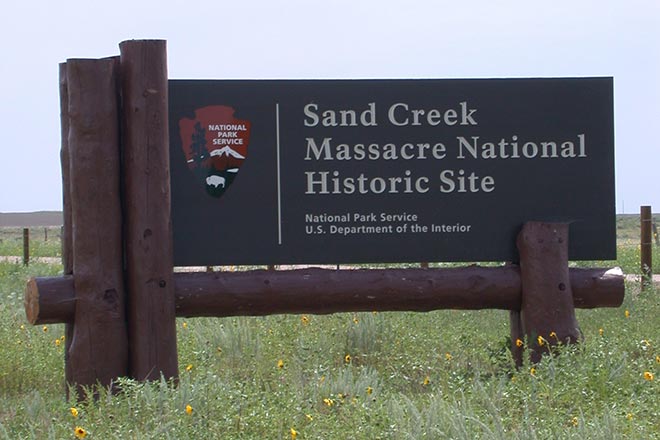 Published
Friday, December 7, 2018
The Sand Creek Massacre National Historic Site's speakers series continues December 13 with a presentation by LaDonna Brown about the Chickasaw people entitled "From the Ancient Past to Modern Day: The Survival of Native Culture." The presentation begins at 6:00 p.m. at the Crow-Luther Cultural Events Center in Eads. Admission is free.
Brown is the Director of Research and Cultural Interpretation in the Department of Culture and Humanities with the Chickasaw Nation of Oklahoma in Ada, Oklahoma. She is an enrolled member of the Chickasaw Nation from the Raccoon clan and descendant from warriors of the Chickasaw Nation. She is considered an artist and a member of the Chickasaw National Dance Troupe.
The ancient Chickasaw people were mound builders, who built great earthen temples, large ceremonial complexes and agricultural fields that fed entire communities. Their homeland was once scattered across the forests, mountains and prairies that later became parts of southwestern Kentucky, western Tennessee, northern Mississippi and northwestern Alabama.
Their world would be forever changed when in 1540 Spanish conquistadors arrived. Though defeated and pushed out, other European powers followed - the British, French, and later, Americans. With the expansion of the United States, American settlers flooded into Indian lands, which led to cessions that reduced Chickasaw lands. In 1830, the United States forcibly removed thousands of Chickasaw and other southeastern Indian tribes across the Mississippi River and into arid lands that would become known as Indian Territory, now the State of Oklahoma.
Brown's presentation is part of an education series, hosted by Sand Creek Massacre NHS, for education on Native and Non-Native American perspectives of the historical context in which the Sand Creek Massacre took place. This series of speakers/educators will be scheduled throughout 2018 and 2019 to present sessions that will address American history, tribal histories, and American Indian Law.