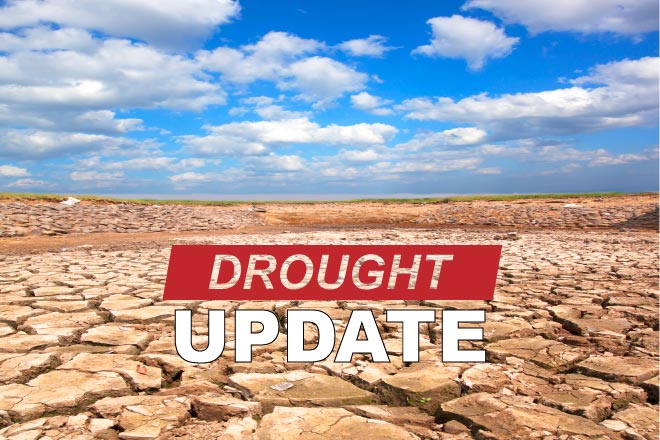 Published
Sunday, August 23, 2020
Drought conditions continue to grow worse in Colorado, with severe and extreme drought expanding in the western part of the state, in part due to above-normal temperatures, according to the latest report from the National Drought Mitigation Center.
Extreme drought expanded further in Garfield County where the Pine Gulch and Grizzly Creek fires are burning. Those fires have consumed a combined total of 160,000 acres.
Extreme conditions also reached most of Eagle and Pitkin counties, along with northern Gunnison and northwest Summit counties.
Severe drought expanded elsewhere in the northwest, replacing moderate conditions for all or portions of Rio Blanco, Routt, Moffat, Jackson, Grand, Summit, Lake, Park, Clear Creek, Gilpin, Larimer, Jefferson, Douglas and Arapahoe counties.
Abnormally dry conditions were replaced with moderate drought in Park, Teller, El Paso, Douglas, Elbert and Arapahoe counties. In north central Colorado, a similar shift was noted for Jefferson, Gilpin, Boulder and Larimer counties, as well as much of the abnormally dry area in Weld County.
The monthly drought outlook for August from the National Weather Service Climate Prediction Center - released July 31 - predicted that abnormally dry areas would fall into drought. Only northeast Weld and eastern Kit Carson counties retained abnormally dry areas this week.
Some relief is in the forecast for Colorado's western slope over the coming days as a high-pressure system centered over the Four Corners area allows some moisture to start moving into the region. High pressure shifts to central Colorado Monday allowing more moisture to enter the western part of the state and some potential for thunderstorm activity. Despite the possibility of rain, temperatures will remain hot. The best potential for storms is expected Tuesday and Wednesday.
Overall, one percent of Colorado is abnormally dry, down from six percent last week. Moderate drought dropped six percent to 25, while severe drought increased seven percent to 45. Extreme conditions grew three percent to 27. The total does not equal 100 percent due to rounding.
At this time last year, 93 percent of Colorado was drought-free, with the remaining seven percent listed as abnormally dry. Just over one year ago, the state was in an eight-week span of drought-free conditions - the first time the state had been clear from all levels of drought and abnormally dry conditions since records became available starting in 2000.
Drought classes include (ranked from least to most severe) D0 - abnormally dry, D1 - moderate, D2 - severe, D3 - extreme, and D4 - exceptional drought.
Colorado Drought by the Numbers

Week

Date

None

D0

D1

D2

D3

D4

Current

8/18/20

0

1

26

45

27

0

Last Week

8/11/20

0

6

32

38

24

0

3 Months Ago

5/19/20

23

12

19

29

18

0

Start of Calendar Year

12/31/19

32

17

31

20

0

0

Start of Water Year

10/1/19

30

42

28

0

0

0

One Year Ago

8/20/19

93

7

0

0

0

0