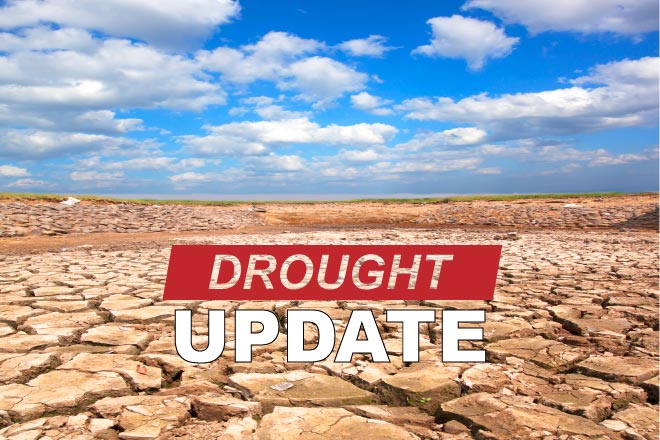 Published
Saturday, July 11, 2020
Parts of southeast and east central Colorado saw drought improvements this week, while moderate conditions increased in the northeast and Denver metro area according to the latest update from the National Drought Mitigation Center.
Exceptional drought - the worst category - entered Baca and Prowers counties last week, only to be removed this week after 0.5-2.5 inches of rain fell in the area.
Eastern Kit Carson County saw heavy rain last week, allowing areas of moderate and severe drought to be replaced by a bubble of abnormally dry conditions.
Moderate conditions moved into Sedgwick County, and expanded in eastern Logan County. Moderate drought also appeared in southern Jefferson, western Douglas and Arapahoe, and much of Denver County.
Remaining areas of the state remained stable.
The U.S. Monthly Drought Outlook from the Climate Prediction Center calls for drought to persist through July. Through September, drought is expected to expand further in northwest and central Colorado.
Overall, 16 percent of Colorado is drought-free, unchanged from the previous week. Abnormally dry conditions decreased one percent to 15, while moderate drought increased from 12 to 14 percent. Severe drought improved from 22 to 21 percent, while exceptional conditions increased one percent to 34.
Just under 2.4 million people in Colorado live in drought-impacted parts of the state.
More than two-thirds of the state is experiencing moderate drought or worse. One year ago, Colorado was free from abnormally dry conditions and all levels of drought for the first time since tracking began in 2000.
Drought classes include (ranked from least to most severe) D0 - abnormally dry, D1 - moderate, D2 - severe, D3 - extreme, and D4 - exceptional drought.
Colorado Drought by the Numbers

Week

Date

None

D0

D1

D2

D3

D4

Current

7/7/20

16

15

14

21

34

0

Last Week

6/30/20

16

16

12

22

33

1

3 Months Ago

4/7/20

35

17

41

7

0

0

Start of Calendar Year

12/31/19

32

17

31

20

0

0

Start of Water Year

10/1/19

30

42

28

0

0

0

One Year Ago

7/9/19

100

0

0

0

0

0