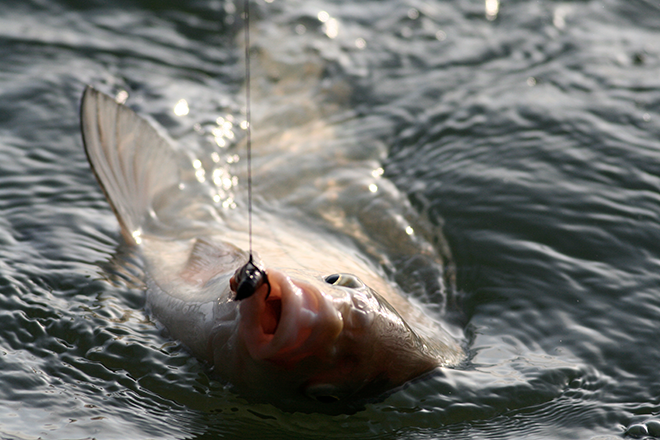 Published
Tuesday, May 16, 2017
Adobe Creek Reservoir
Anglers have been catching crappie, which have been consistently small in size, but most are catching 6 to 10 a day. There have also been some saugeye and largemouth being caught.
Arkansas River
Upper River: Cooler weather has halted the melt and the river is clear and stable. BWO's are the main menu item right now, but caddis larva and pupa are becoming increasingly available and important. In the afternoons, be prepared for BWO hatches; we've had excellent reports on the river above Buena Vista. Nymphing slow, consistent pools and runs early and mid-day in the upper basin can be productive, with fish moving into faster riffles to feed when nymphs are drifting, primarily in the afternoons. Be thorough in your approach, and adjust your weight and depth accordingly.
Middle River: Last week saw our first caddis emergence above Salida, and had insects active up to Big Bend. Anglers should see opportunities to fish dry flies over the next few days, and pupa and larva patterns are extremely effective both on a dead drift and on a swing in anticipation of bugs on the water. BWO's are still very prevalent in this area (with hatches coming on cloudy days), so combinations of caddis and mayfly nymphs have been effective during non-hatch periods. Spring fishing is now underway up through Browns Canyon and the Milk Run. Daily nymphal drifts of BWO's, as well as some good cloudy day hatches, have energized the fish population and allowed them to disperse form winter water. Also, look for morning caddis larval drifts. With the significant decrease in flows, crossing the river at Hecla is now relatively easy and the wading through the Big Bend area is much easier. Cloudy weather this week should produce some excellent afternoon hatches, and yield great dry fly fishing scenarios.
Lower River: There have been reliable reports of caddis activity up to the Big Bend area, both hatching insects and egg-laying adults, and any days of warm sunshine should bring more of the same, prompting hatches around the Salida area. The "hatch" is not a blanket occurrence like years ago; anglers are more likely to find pockets of intense activity scattered through the river corridor. We've had many reports of fish rising to take adult imitations in areas where caddis are in the air, even if there is not a hatch occurring in the moment. Prospecting with dry flies in the afternoon can be productive if you can cover water. Cloudy days will still yield BWO hatches, so stay prepared. We are also seeing good cranefly and midge activity. Flows are at a level that is conductive to both wade and float fishing. We are still swing consistent BWO nymphs drifting daily, and duns on the water on cloudy afternoons. Nymphing will still probably be your best bet throughout the day, but don't limit your strategy to deep water; shallow riffles can be productive in the afternoons once mayfly nymphs become more available.
(Courtesy of ArkAng ler s)
Arkansas Headwaters Recreation Area
John Martin Reservoir
The recent water temperature has been about 56 degrees. Saugeye have been biting up around the rocky points of the main lake, mostly on small silver crankbaits and rattletraps. The crappie bite has been sporadic recently. The white bass and wiper bite has been decent around the stilling basin and spillway, and starting to pick up on the main reservoir. Anglers have had success using various lures and live baits. There have been a few reports of drum being caught on the main reservoir with flies and crankbaits.
North Gateway Park
Bass fishing has slowly started to pick up. There have been a few anglers who have managed to catch some crappie, but not in great numbers. Anglers have also been catching some decent sized saugeyes. Fishing for catfish has been poor. Anglers have also been catching some 10 inch trout.
Trinidad Lake
The lake is at approximately 949 surface acres. Fishing from the south shore has been slow due to high water. The trout that have been caught are in the 16 to 20 inch range and have been off PowerBait and worms. Reilly Canyon, where the river comes in, has been slow due to the muddy water from recent rains. Anglers have also been catching a few catfish and bass.
Turks Pond
Fishing has picked up recently for a variety of species. Crappie are still being caught off the dam using jigs. Catfish are picking up and are hitting on typical baits. You may have to sort through a few bullheads to catch the channel catfish. Bullheads do seem to be fewer in numbers this year. Trout are being caught as well on PowerBait and nightcrawlers. There have been a few nice bass caught on jigs as well.
Just a reminder; gas motors are not allowed on this lake, so boats must be either electric, wind, or hand powered.
Two Buttes
Fishing has picked up recently for most species. The water temperature has been in the lower 60 degree range with the water clarity being still somewhat muddy. The recent rain and snowstorms have not added much water at all to the lake. Bass are beginning to move into shallower water and are being caught on several different lures with spinnerbaits, jigs, and lipless crankbaits leading the way. Crappie are biting throughout the lake on small jigs. Most are on the small size, but there have been some in the last week measuring in at over 13 inches. Saugeye are being caught around the lake, mainly on jigs and worms. It may take a little time to find them, but when you do, they have been more than willing to take the bait. Catfish are also being caught on typical baits. There have been a few wiper caught as well on crankbaits and jigs.