Image
Southeast Colorado weekend weather: Slightly cooler, chances for rain
For southeast Colorado's final July weekend, expect high temperatures to be minimally cooler while the potential for rain increases.
Highs in the low to mid-90s are expected Saturday, with temperatures dropping to the mid-60s overnight. Strong to severe thunderstorms are expected for portions of the area into the evening hours, including for Cheyenne County and northern Kiowa County. Wind gusts up to 65 miles per hour are possible, along with hail up to one inch in diameter. Storms are most likely to occur between 2:00 and 8:00 p.m.
Image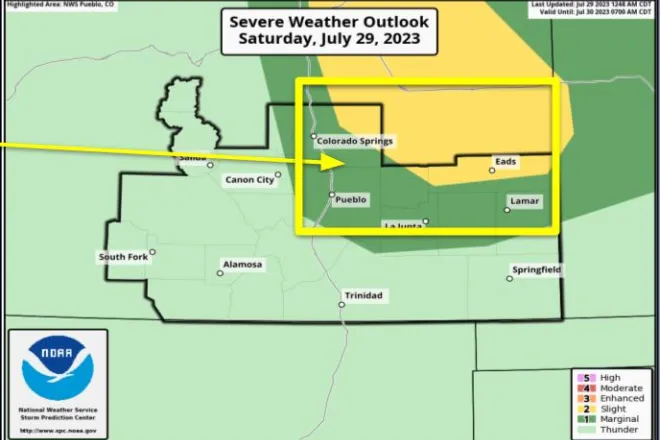 Temperatures in the low 90s are forecast for Sunday, with overnight lows returning to the mid-60s. There is limited potential for rain and thunderstorms.
For the start of the work week, highs in the mid-90s are predicted for Monday and Tuesday, with lows continuing in the mid-60s.
Potential for rain begins to increase again Tuesday evening, further increasing for Wednesday, when showers and thunderstorms become likely as a monsoonal pattern continues. Wednesday also marks the start of additional slight decreases in daytime highs.
For Thursday, upper 80s are expected during the day, dropping to the low 60s overnight.
Temperature and Precipitation Forecast

 

Eads

Cheyenne Wells

 

High

Low

Chance Precip.

High

Low

Chance Precip.

Saturday

96

64

30%

92

64

20%

Sunday

93

66

10%

92

65

0%

Monday

96

66

10%

97

67

0%

Tuesday

96

65

30%

96

65

30%

Wednesday

94

63

50%

94

63

60%

Thursday

88

62

10%

87

61

40%