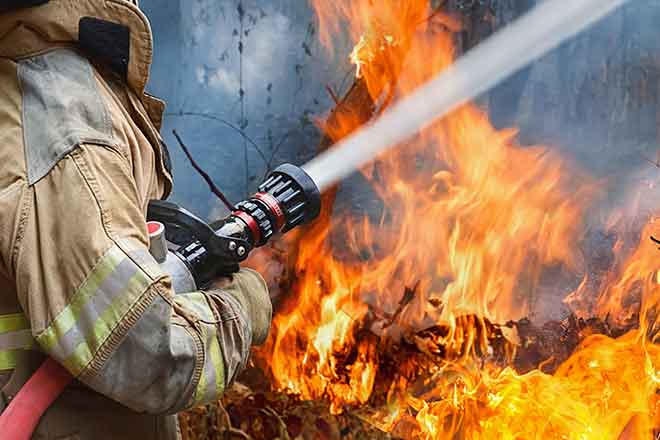 Published
Sunday, March 28, 2021
A red flag warning for high fire danger has been issued by the National Weather Service for Monday and covers southeast Colorado along with the San Luis Valley. A fire weather watch remains in effect for all or parts of four additional counties in the east central portion of the state.
The warning is in effect from noon until 8:00 p.m. Monday.
Monday's high temperatures across the eastern plains will range from the upper 70s to mid-80s, with mid-60s in the San Luis Valley.
Winds out of the west are predicted to gust between 45 and 55 miles per hour, while relative humidity drops as low as the single digits.
Fires that do start could spread rapidly. Although some areas have seen the first hints of a spring green up following recent rain and snow, most plants are still dormant for the winter, leaving plenty of fuel to feed a fire. Eastern Colorado has recently seen some drought improvements, however severe and extreme drought remain in much of the warned area.
Monday evening, a cold front is expected to pass out of the north across the state. Wind gusts to 40 mph are possible. Temperatures Tuesday could be as much as 40 degrees cooler than Monday on the plains, reaching only the upper 30s to low 40s.
There is also potential for snow Tuesday, with the greatest chance along the southern mountains and Interstate 25 corridor.
A fire weather watch remains in effect across the central portion of the nation, stretching from New Mexico and Texas to Iowa and North Dakota. Portions of that area are already in a red flag warning Sunday afternoon. Shortly before noon Sunday, much of southwest Kansas also moved to a red flag warning.
Colorado counties included in Monday's warning include all of Baca, Prowers, Bent, Otero, Crowley and Kiowa counties; most of Las Animas, Pueblo Fremont and El Paso counties; and smaller portions of Huerfano, Costilla, Conejos, Rio Grande, Alamosa and Saguache counties.
The fire weather watch covers all of Kit Carson, Cheyenne, Lincoln counties and the eastern portion of Elbert County.
The NWS is strongly discouraging any activities that could spark a fire.