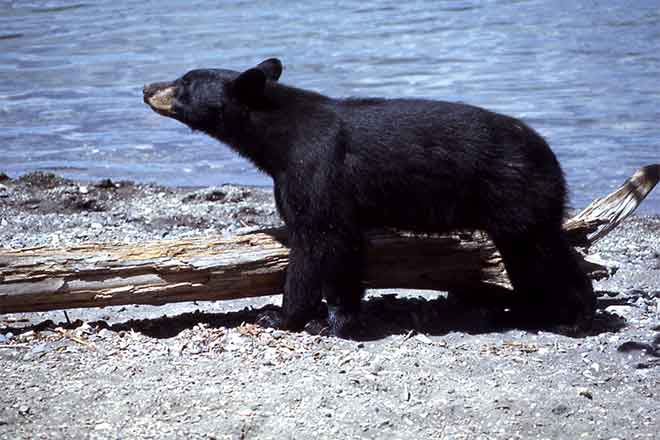 Published
Saturday, April 6, 2019
The official start to spring brings the annual reminder from Colorado Parks and Wildlife that bears are emerging from their slumber and beginning the search for food. Residents and visitors to bear country statewide need to do their part to help conserve our wildlife by working to reduce the chances of human-bear interactions.
Improper food storage and forgetting to lock a vehicle resulted in a Breckenridge resident's car being destroyed in just the first week of April.
"We stress it every year, small behaviors by people can make a huge difference for bears," said Tom Davies, district wildlife manager in Summit County. "We need people to keep cars and garages locked, keep attractants out of reach and properly use and lock bear-proof trash cans. When you are living in bear country, you have a responsibility to follow ordinances and be conscientious. If you don't, you should expect that we will be issuing warnings and fines."
In some Colorado communities, bears were spotted during normal winter rest periods because ample food was available all season as humans failed to practice good bear aware behavior. In Breckenridge, two bears that had access to trash all winter not only didn't hibernate but put on over 60 pounds.
"Some bears near our cities don't hibernate because there is a constant source of food ranging from garbage to bird feeders to dog food and whatever they can find in open garages," said Frank McGee, area wildlife manager for the Pikes Peak region. "That is why we asked Manitou Springs to pass an ordinance to mandate bear-proof trash cans. And we believe it's working. We're making a similar effort with Colorado Springs."
In the spring, bears should find natural food sources when they emerge from hibernation as new plants and grasses begin to sprout. Bears are omnivores and primarily eat vegetation such as grasses, forbs, berries, acorns, and seeds - food sources that span their waking seasons. But if natural food becomes scarce, or if human-provided food is easy to access, bears will begin looking in residential areas for their next meal.
Though most human-bear interactions occur in the late summer months, a late frost or prolonged dry weather could lead to localized natural food failures, pushing black bears to be more persistent in their search for human-food sources. Being bear aware not only protects your home and property, but it can also save a bear's life.
"Our area staff worked hard this winter to get some rehabilitated orphaned cubs back into the wild and give them a second chance at life in the wild," said Kristin Cannon, area wildlife manager for Area 2, covering Boulder and Estes Park. "The hard reality is that most orphaned cubs lose their mother due to humans being careless with trash and feed. When a bear has easy access to garbage or pet food, the need for calories will trump that animal's natural fear of humans. Unfortunately, that makes bear conflicts much more likely to occur."
We all play a role in minimizing interactions with bears by establishing strong bear-aware habits that can help prevent conflicts throughout the year.
Tips to prevent human/bear conflicts
Keep garbage in a well-secured enclosure and only put out garbage on the morning of pickup; bring in empty cans back inside before dark.
Use a bear-resistant trash can or dumpster. These are available online or from your trash hauler.
Clean all garbage cans regularly to keep them odor free. The scent of ammonia can deter bears.
Take down all bird feeders by April 15 - bird feeders are a major source of bear/human conflicts. Birds don't need to be fed during the spring and summer. Hang feeders again in mid-November.
Don't leave pet food or stock feed outside - never provide food sources for any wildlife.
Keep garage doors and windows closed and locked, especially between dusk and dawn.
Don't leave attractants such as snacks, food wrappers, gum, or even scented hand lotions in your car; and always lock vehicle doors.
Use bear boxes or bear-proof containers for food and scented items when camping.
Don't leave food outside while camping. If bear boxes aren't available local all food in a vehicle.
Review CPW's Bearproofing Your Home Fact Sheetand conduct a home audit to be sure you are not attracting bears to your property.
Talk to your neighbors and kids about being bear aware.
For more information about Living with Bears in Colorado, visit https://cpw.state.co.us/bears.