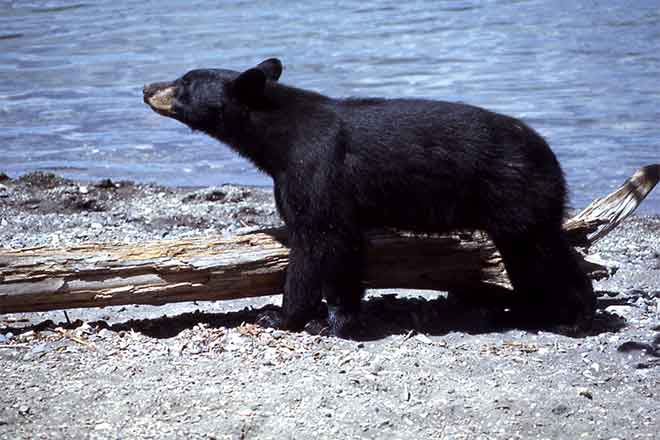 Published
Wednesday, May 16, 2018
Based on DNA evidence, Colorado Parks and Wildlife is confirming the bear killed by wildlife officers is the same bear responsible for attacking a young girl at her home in East Orchard Mesa early in the morning on Mother's Day.
The animal is described as a two-year-old male, cinnamon-colored black bear, weighing 150 pounds. The necropsy revealed the bear was in good body condition with no signs of diseases. Rabies testing was negative.
Wildlife officers killed the bear later the same evening of the attack in the yard of a residence located approximately a half-mile away from the incident. Before killing it, the two officers say the bear came within a few feet of their vehicle, looking into the open window as they monitored a nearby bear trap.
CPW officials at the agency's Wildlife Health Lab in Fort Collins conducted a necropsy on the carcass Monday afternoon. DNA evidence delivered to the Wyoming Game and Fish Laboratory confirmed it was the same bear. Typically taking a week to conduct an examination of evidence and confirm results, the high-profile and sensitive nature of the incident prompted an expedited effort.
"From the moment we first learned of the attack through confirmation that we killed the right bear, there have been a lot of dedicated people working very hard to protect the public and conduct a thorough, timely investigation," said Regional Manager JT Romatzke. "We continue to pray for the little girl and her family and they remain in our thoughts. We are glad to hear she is doing better. It gives us a great sense of accomplishment to let them know we have dealt with the bear that attacked their daughter."
Romatzke said personnel with the USDA's Wildlife Services searched the area with hounds early Tuesday morning, finding no evidence of recent bear activity.
Wildlife officers will pull all three traps from the area, in place since the evening of the attack.
'Black bear' is the name of the species and does not describe their color. They can be cinnamon, or honey-colored, brown, blond or black. Black bear is the only bear species in Colorado.
Depending on the season, food supply and gender, black bears may weigh from 100-450 pounds. They can be five-feet tall when standing on their back legs.
Although considered carnivores, a black bears' natural diet typically consists of berries, acorns and insects. In Colorado and many areas of the country where bears are common, trash, dirty campsites, bird feeders and food purposely provided by humans can condition a bear to seek food sources in residential areas, a leading cause of human/bear conflicts.
For more information about preventing bear conflicts, visit the CPW website.