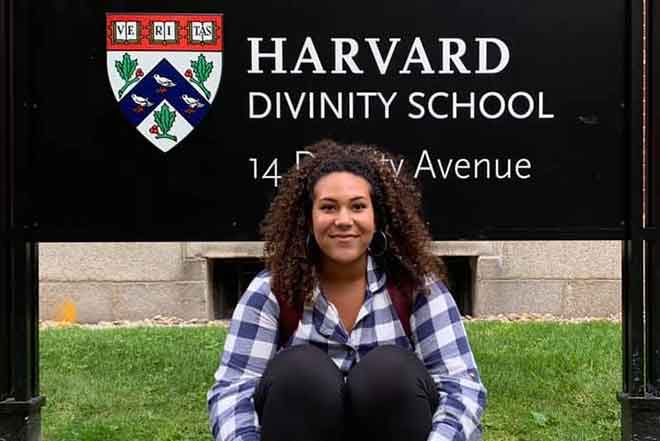 Published
Saturday, November 2, 2019
Editor's note: Eboni Nash is a graduate of Eads High School and Hastings College in Nebraska, where she majored in psychology, religion and sociology. She now attends Harvard University in Massachusetts. Eboni writes periodically for the Kiowa County Press.
Tuesday mornings start off like any other morning. I wake up at three in the morning, have a small breakfast, and start my walk to work. It is getting a bit cold now, the leaves are falling, and the streets are drenched with midnight rain.
Walking to work has become faster, my pace is increasing, probably due to my lack of enthusiasm for the bitter cold. Following work, I have two classes - Spanish, and then Coloniality, Race, and Catastrophe. My Coloniality class has to be one of my favorites. It is there that we are able to talk about the end of the world, what it looks like, and what an apocalyptic culture is seen as. The notion that the end of the world has once come for several cultures by the hands of others, such as Native Americans, African Americans, and so many more, is saddening.
Tuesday night is always exciting for me. On this particular Tuesday, I was able to meet Queen Latifah. You know Queen Latifah - Dana Ownes - songwriter, producer, and actress. It was on this night that she, along with six other professionals, were recognized at the DuBois Medaling Ceremony. The DuBois Medaling Ceremony is a yearly event that recognizes seven people for their contribution to African American studies and social justice. This year, Queen Latifah, Robert F. Smith, Rita Dove, Shella Johnson, Kerry Marshal, Elizabeth Alexander, and Lonnie Bunch were recognized for their work in African American studies. Other people who have received this award include Oprah Winfrey, Colin Kaepernick, and Muhammad Ali, just to name a few.
Among the seven being recognized, there were artists, poets, writers, billionaires, and actresses, all of whom have contributed and progressed African American culture and ideologies. You might remember Robert F. Smith from his phenomenal contribution to Morehouse scholars this past May. He is the African American who paid off the debt of all students graduating from Morehouse college. To think that a man, as selfless as him, was able to pay off hundreds of students' debts and still offer more to the progress of African American scholarship is unreal. He took his life's work and used it to better the lives of hundreds, some of whom had debts over $100,000. That is what you call leadership, and that is what you call investing into the future of the youth.
It was a great honor to witness this event. With the attendance of Black and African American students at Harvard University being at an all-time low this year, it brought me great hope for the future. There are only four. Seeing these great scholars, hearing about their past work, and being able to thrive within their work was uplifting. I am looking forward to the event next year and keeping my fingers crossed for a specific few Black and African American academic nominations at the following medaling ceremony.