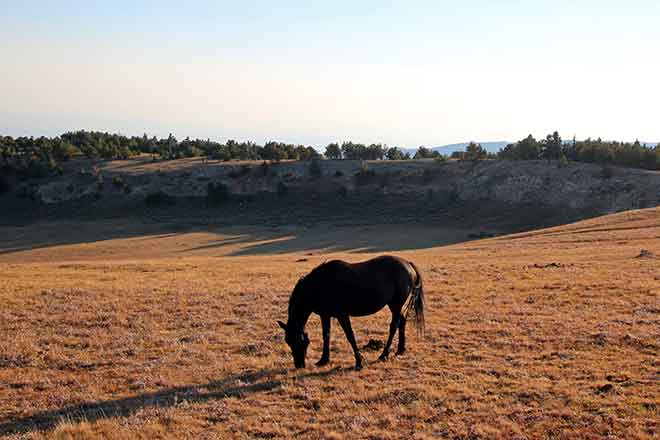 Published
Tuesday, October 5, 2021
(The Center Square) - The U.S. Bureau of Land Management (BLM) will start to gather some wild horse in Wyoming this week to manage what the federal agency says is burgeoning herd numbers.
The gather will start on Thursday and take place over the course of a few weeks in five Herd Management Areas (HMAs): Great Divide Basin, Adobe Town, Salt Wells Creek, White Mountain and Little Colorado, according to Brad Purdy, acting deputy state director of communications for BLM's Wyoming office. Purdy said operations will start in the Great Divide Basin.
"We're starting to get out of balance," Purdy said. "There's more horses out there than the range can support."
Purdy says BLM's goal is to manage "healthy herds on healthy rangelands."
The federal agency is tasked with managing recreation, wildlife, and resources on over 245 million acres of public land across the west, with 18.4 million acres in the Cowboy State.
"We are planning on removing around 3,500 horses, and that's in total across those five Herd Management Areas," he said.
The BLM's total appropriate management level (AML) for the five HMAs is between 1,550 and 2,145 horses, according to Purdy. Right now, herd numbers are at 5,105, he says.
"We are significantly over that appropriate management level," Purdy said.
A third-party contractor will operate the helicopter used to herd the horses into containment areas. The BLM will be present as well, and Purdy adds the public are welcome to come observe if they wish.
"We do that for every gather," he said. "If anybody's interested in doing that, they can reach out directly to me and we'll get them signed up for the observers' list."
A portion of mares gathered will be treated with a contraceptive and then re-released while the remaining horses will be made available for adoption. BLM has an ongoing incentive program to adopt, offering people $1,000 to take in an animal rather than incurring costs of boarding maintenance, which costs the agency an estimated $50 million each year.
Purdy encourages anyone looking for a sturdy, enthusiastic horse to consider a wild horse.
"These wild horses, once they're trained and gentled, I think they make fantastic working animals, so if somebody is interested in getting a horse, I would strongly encourage them to look into the BLM's adoption program and to pick up one of these great animals," he said.
"I've personally seen some of these horses, especially after they're trained -- they're just a heck of an animal. They're ready to work, they're ready to be ridden, they like being outside so they're great for trail riding, working on a ranch."