Image
USDA Update – April 11, 2023
IMPORTANT DATES TO REMEMBER
EMERGENCY GRAZING AVAILABLE ON CERTAIN CRP CONTRACTS -  after March 15th -  50% reduced stocking rate
March 15 – July 15 – PRIMARY NESTING SEASON for CRP General and Continuous contracts. 
June 2, 2023 – ERP Phase 2 and PARP Deadline
Disclaimer:  Information in this UPDATE is pertinent to Kiowa County FSA only.  Producers reading this and that do not have FSA interest in Kiowa County are advised to contact their local FSA Office. 
THE USDA SERVICE CENTER HAS A DROP BOX AVAILABLE ON THE EAST SIDE OF THE BUILDING. 
DROUGHT MONITOR
There were some changes to this week's Drought Monitor with a D2 intensity added to far western Kiowa, southern Lincoln, Crowley, and other counties. 
Image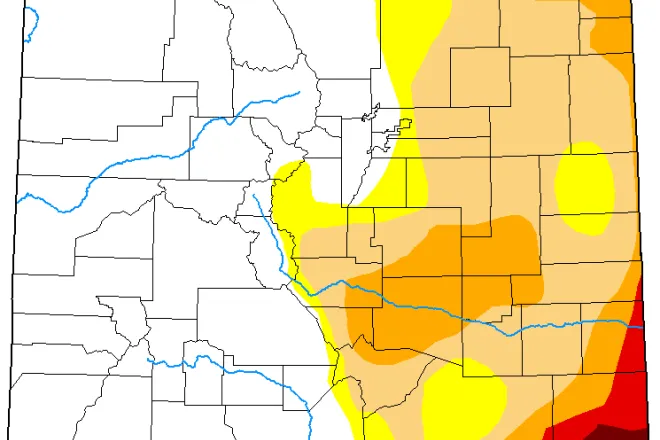 CONSERVATION RESERVE PROGRAM
General CRP 
Friday, April 7th was the last day to submit an offer for General CRP Signup #60.  The submitted offers will be ranked by FSA National Office in the coming weeks.  When the ranking results are received by local FSA Office, producers will be notified of the results for their specific offer(s). 
Grassland CRP 
FSA will announce the dates for Grassland CRP signup in the coming weeks. Grassland CRP is a working lands program, helping landowners and operators protect grassland, including rangeland and pastureland and certain other lands, while maintaining the areas as working grazing lands.
Protecting grasslands contributes positively to the economy of many regions, provides biodiversity of plant and animal populations, and provides important carbon sequestration benefits to deliver lasting climate outcomes.   
How to Sign Up 
Landowners and producers interested in CRP should contact their local USDA Service Center to learn more or to apply for the program before their deadlines.  
Applying for FSA Direct Loans
FSA offers direct farm ownership and direct farm operating loans to producers who want to establish, maintain, or strengthen their farm or ranch. Direct loans are processed, approved and serviced by FSA loan officers.
Direct farm operating loans can be used to purchase livestock and feed, farm equipment, fuel, farm chemicals, insurance, and other costs including family living expenses. Operating loans can also be used to finance minor improvements or repairs to buildings and to refinance some farm-related debts, excluding real estate.
Direct farm ownership loans can be used to purchase farmland, enlarge an existing farm, construct and repair buildings, and to make farm improvements.
The maximum loan amount for direct farm ownership loans is $600,000 and the maximum loan amount for direct operating loans is $400,000 and a down payment is not required. Repayment terms vary depending on the type of loan, collateral and the producer's ability to repay the loan. Operating loans are normally repaid within seven years and farm ownership loans are not to exceed 40 years.
Please contact your local FSA office for more information or to apply for a direct farm ownership or operating loan.
Agriculture Disaster Relief & Recovery Funding (Webinar) 
This webinar will provide an overview for farmers, ranchers, and other ag producers of the state and federal funding programs that could be available when disasters strike our ag communities. Experts from the state and federal government will introduce these important programs and be available to answer questions.
The webinar is scheduled on Friday, April 14th, 2:00 to 3:30 p.m.; registration is required and the link to register is https://ag.colorado.gov/events/agriculture-disaster-relief-recovery-funding-webinar?utm_medium=email&utm_source=govdelivery
You can also call the FSA Office and the information can be emailed to you to register.   We urge all producers to register and listen to the information being presented.  It is the producer's responsibility to know the programs that are available.  
KIOWA COUNTY FARM SERVICE AGENCY COUNTY COMMITTEE
Sean Harkness – LAA 1 – East area – Committee Chairperson
Destiny Haase – LAA 2 – Central area – Committee Vice-Chairperson
Michael Zimmerman – LAA 3 – West area – Committee Regular Member
USDA SERVICE CENTER CONTACT INFORMATION
409 E Lowell Ave.
PO Box 188 – Eads, CO  81036
Telephone 719-438-5851 FSA (Ext 2), NRCS (Ext 3). FSA Fax number: fax2mail 844-332-7501
FSA – Farm Service Agency  
NRCS – Natural Resource Conservation Service
KIOWA COUNTY FARM LOAN CONTACT INFO – CALL FOR AN APPOINTMENT
SERVICE CENTER OFFICE HOURS:  
Monday through Friday - 8:00 a.m. to 4:30 p.m.