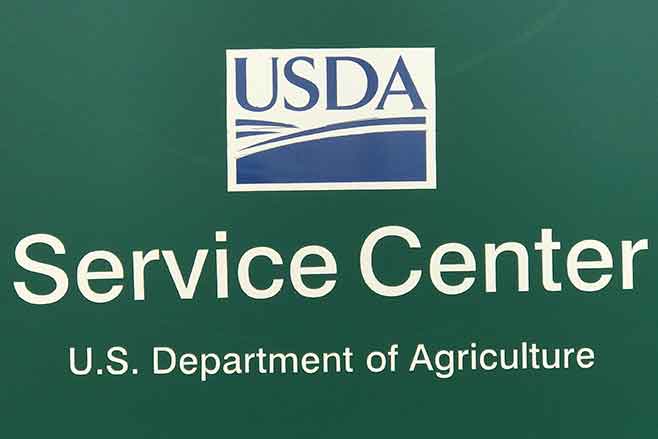 Published
Tuesday, February 9, 2021
IMPORTANT DATES TO REMEMBER:
SERVICE CENTER CLOSED: Monday, February 15, 2021 - Observing President's Day
2021 ARCPLC signup - deadline March 15, 2021
ARCPLC DECISION WEBINAR - February 16, 2021
CRP General CRP signup #56 - Extended indefinitely
Disclaimer: Information in this UPDATE is pertinent to Kiowa County FSA only. Producers reading this and that do not have FSA interest in Kiowa County are advised to contact their local FSA Office.
THE USDA SERVICE CENTER HAS A DROP BOX AVAILABLE ON THE EAST SIDE OF THE BUILDING.
SERVICE CENTER CLOSED
All USDA Service Centers will be closed on Monday, February 15, 2021 in, observance of President's Day. Service Centers will reopen on Tuesday, February 16, 2021.
CRP GENERAL SIGNUP #56
USDA announced on Friday, February 5, 2021 CRP General signup #56 - the official notification reads as follows:
The U.S. Department of Agriculture (USDA) is extending the Conservation Reserve Program (CRP) General Signup period, which had previously been announced as ending on Feb. 12, 2021. USDA will continue to accept offers as it takes this opportunity for the incoming Administration to evaluate ways to increase enrollment. Under the previous Administration, incentives and rental payment rates were reduced resulting in an enrollment shortfall of over 4 million acres. The program, administered by USDA's Farm Service Agency (FSA), provides annual rental payments for 10 to 15 years for land devoted to conservation purposes, as well as other types of payments.
Before the General CRP signup period ends, producers will have the opportunity to adjust or resubmit their offers to take advantage of planned improvements to the program.
"The Conservation Reserve Program provides a tremendous opportunity to address climate change both by retiring marginal cropland and by restoring grasslands, wetlands, and forests," said Robert Bonnie, Deputy Chief of Staff, Office of the Secretary. "CRP has a 35-year track record of success beyond just climate benefits, by providing income to producers, improving water quality, reducing erosion, and supporting wildlife habitat and the hunting and fishing opportunities that go along with it. By extending this signup period, we'll have time to evaluate and implement changes to get this neglected program back on track."
As one of the largest private-lands conservation programs in the United States, CRP provides both economic and conservation benefits by taking land out of agricultural production. Program successes include:
Sequestering in soils and plants over 12 million metric tons of carbon dioxide equivalent (CO2e), or about the same amount that the entire state of Delaware emits annually.
Preventing more than 2 billion tons of soil from being blown away by wind erosion over the life of currently enrolled acres.
Reducing phosphorous reaching streams by almost 85 million pounds, nitrogen by nearly 450 million pounds, and sediment by over 160 million tons in 2020 alone.
Creating more than 2.3 million acres of restored wetlands while protecting more than 177,000 stream miles with riparian forest and grass buffers, enough to go around the world seven times.
Establishing over a half million acres of dedicated pollinator habitat and nearly 15 million more acres of diverse plantings that provide forage for pollinators.
Increasing populations of ducks and other game birds, prairie chickens, and such grassland songbirds as Baird's Sparrow. CRP in the Northern Great Plains supports an estimated 8.6% of the grassland bird population.
Increasing habitat that supports economic opportunities, such as job creation, related to hunting and fishing activities.
This signup for CRP gives producers an opportunity to enroll land for the first time or re-enroll land under existing contracts that will be expiring Sept. 30, 2021. All interested producers, including those on Indian reservations and with trust lands, are encouraged to contact their local USDA Service Center for more information.
All USDA Service Centers are open for business, including those that restrict in-person visits or require appointments. All Service Center visitors wishing to conduct business with FSA, Natural Resources Conservation Service, or any other Service Center agency should call ahead and schedule an appointment. Service Centers that are open for appointments will pre-screen visitors based on health concerns or recent travel, and visitors must adhere to social distancing guidelines. Visitors are also required to wear a face covering during their appointment. Our program delivery staff will continue to work with our producers by phone, email, and using online tools. More information can be found at farmers.gov/coronavirus
The NRCS staff has completed field assessments on the expiring and expired contracts that the office is currently aware the owners wish to submit an offer. The FSA office has sent out the information either by mail or email to the contact person on the current or expired contract.
Once the producers look over that information, they need to make the following decision regarding each tract to submit an offer.
Continue with an offer based on field assessment and total N score
Continue with an offer based on field assessment and lower rental rate by ____ % for additional EBI points.
Will not be making an offer on this tract.
FSA Offices will continue to accept offers on contracts set to expire on September 30, 2021. Contracts that expired that the established cover has been maintained as though enrolled in CRP are also eligible. If ownership has changed on the expired contract after expiration; the new owner must have owned the land for 12 months before the land can be offered back into CRP. The office will also be accepting any offers on current cropland. Be reminded; submitting an offer does not guarantee acceptance.
Currently, what is noted above is the only information that FSA offices are aware of, when more information becomes available it will be shared with the producers.
FARM BILL DECISION WEBINAR - still time to enroll
There is still time to enroll for this webinar and we are encouraging producers to enroll. CSU and State FSA employees will be hosting a webinar to assist producers regarding 2021 ARCPLC election. The webinar will be held Tuesday, February 16th from 6:00pm to 8:00pm. Topics to be addressed are: the mechanics of ARC/PLC and the limitations of ARC for fruit and vegetable producers, the payment outlook in 2021 for ARC-CO/PLC for the major program crops in Colorado, and a drought update. To register for the webinar, email Brent Young @ brent.young@colostate.edu and a link will be emailed to you to register online for the webinar
Currently for 2020 PLC payments are projected at zero for corn and grain sorghum. Will that trend remain for 2021 crop year? Last week in the UPDATE it was mentioned that producers need to be making this decision by March 15, 2021 for farm(s) with eligible base acres.
Producers have three options for enrollment.
PLC or Price Loss Coverage
ARC-CO or Agricultural Risk Coverage County
ARC-IC or Agricultural Risk Coverage - Individual
Below is a basic comparison regarding the three options available.
To register for the webinar, email Brent Young @ brent.young@colostate.edu and a link will be emailed to you to register online for the webinar.
COLD WEATHER and CALVING
With the recent cold snap and some ranchers have started the calving process; it's extremely important to be documenting those losses with pictures and record books.
Couple of good tips to following documenting any loss -
pictures must be date stamped - there are many free phone apps available - be certain to download one to your phone.
Documentation - keep an up to date, legible calving record. Those daily diaries work well.
The Livestock Indemnity Program (LIP) provides assistance to ranchers for livestock deaths in excess of normal mortality caused by adverse weather, disease and attacks by animals reintroduced into the wild by the federal government or protected by federal law.
For disease losses, FSA county committees can accept veterinarian certifications that livestock deaths were directly related to adverse weather and unpreventable through good animal husbandry and management.
For 2020 livestock losses, you must file a notice within 30 calendar days of when the loss is first apparent. You then must provide the following supporting documentation to your local FSA office no later than 60 calendar days after the end of the calendar year in which the eligible loss condition occurred.
Proof of death documentation
Copy of grower's contracts
Proof of normal mortality documentation
USDA has established normal mortality rates for each type and weight range of eligible livestock, i.e. Adult Beef Cow = 1.5% and Non-Adult Beef Cattle (less than 250 pounds) = 3%. These established percentages reflect losses that are considered expected or typical under "normal" conditions.
In addition to filing a notice of loss, you must also submit an application for payment by March 1, 2022