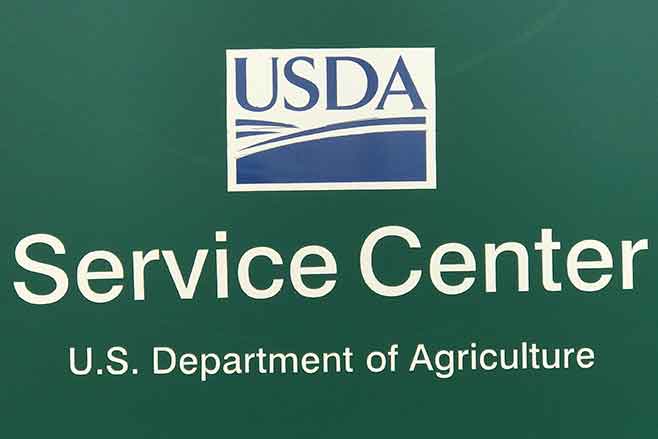 Published
Tuesday, January 14, 2020
IMPORTANT DATES TO REMEMBER:
SERVICE CENTER CLOSED - Monday, January 20 - MLK Birthday Holiday
CRP General Signup #54 - Deadline February 28, 2020
Farm Loan personnel in Eads Office - 2nd Tuesday every month
2019 & 2020 - ARCPLC signup - Begins October 1 - Deadline March 15
Disclaimer: Information in this UPDATE is pertinent to Kiowa County FSA only. Producers reading this and that do not have FSA interest in Kiowa County are advised to contact their local FSA Office.
CRP MEETING
Thank you to the producers who took the time to attend the CRP meeting, here in Eads January 7. I am hoping it was beneficial and educational. The attendance report from all the meeting throughout the week exceeded expectations. Again, thanks to the following for contributing to the Eads meeting:
Kiowa County Commissioners - waiving usage fee.
Farm Credit of Southern Colorado - cookies
REQUESTING FIELD INSPECTION
At the meeting, it was noted that NRCS employees will be completing an existing grass stand inspection to assist producers in determining the number of existing grasses and forbs present on the field. Producers with expiring CRP fields will have until Friday, February 7 to request the field inspection. It will take NRCS a considerable amount of time to complete the field inspections that have already been requested and NRCS has other programs that require attention. Producers wishing NRCS to complete an inspection, please contact the office.
The office staff is currently accepting appointments for CRP offers. We urge producers to call or email the staff to schedule the appointment, including email or fax appointments as those will also need to be accounted for in time management. If you have requested a field inspection on the CRP, the office will contact you when that has been completed and it will be the producer's responsibility to then determine how to offer the existing stand of CRP and schedule an appointment.
ARCPLC ENROLLMENT
Another large workload item for FSA offices is the 2019 - 2020 ARCPLC enrollment. Producers have until March 15 to make an election of either PLC, ARC-CO or ARC-IC. Producers on eligible farms who fail to make an election by March 15, are defaulted into the previous Farm Bill program and are NOT eligible for a 2019 payment.
Producers who are having a difficult time or would like further explanation of each program are encouraged to visit the following website:
https://www.fsa.usda.gov/programs-and-services/arcplc_program/index
There is a large amount of information on this site and also a couple of farm calculators. Just click on resources and there are two calculators available. If you need information to complete the calculators, please contact the office for that information.
Elections are done by producer who had control of the farm in 2019. Below is a brief explanation of each program:
PRICE LOSS COVERAGE (PLC) -
Protects against lower prices and is triggered nationwide based on the prices that year. As of December 10, 2019, the projected 2019 payment rate is as follows:
Wheat - .95 bu.
Barley - .30 bu.
Corn - .0.
Grain sorghum - .55 bu.
Sunflower seed - .0250 #
AGRICULTURAL RISK COVERAGE - ARC-CO and ARC-IC
ARC-CO - Protests against lower revenues - a combination of prices and yields
County - CO uses the national marketing year average plus the county yield - Olympic average of yield x price = Benchmark county revenue.
Individual- IC uses the individual farm yields and the marketing year average price - Olympic average of specific farm yield x rate = Benchmark individual revenue.
PLC and ARC-CO can be selected for difference commodities on each farm. ARC-IC is a specific farm election, the entire farm is enrolled into ARC-IC if selected.
Below is the timeline to complete 2019-2020 election and update farm yield. FSA encourages all producers to review the yield update, even if PLC is not selected as the program. Not every Farm Bill allows yield update, therefore when the opportunity is there, take it.
2018 Farm Bill - State Training Timeline
2019 Enrollment - September 3, 2019 - March 15, 2020
Collection of 2018 STC Yields - September 1- September 30, 2019
(using 2014 FB cascade)
Collection of 2018 STC Yields - September1-September 30, 2019
(using 2018 FB cascade)
2018 ARCPLC Payments - October 1, 2019-January 31, 2020
2020 Enrollment - October 1, 2019-June 30, 2020
2020 Yield Update - October 1, 2019-September 30, 2020
2019 ARCPLC Payments - October 1, 2020