Image
USDA Update – May 19, 2020
IMPORTANT DATES TO REMEMBER:
USDA SERVICE CENTER CLOSED – MONDAY, MAY 25 in observance of MEMORIAL DAY
CALL SERVICE CENTER TO SCHEDULE PHONE APPT. – LIVESTOCK PROGRAMS:  LFP AND CFAP SIGNUP BEGINS MAY 26th.
PRIMARY NESTING SEASON - March 15 - July 15 - NO ACTIVITY PERMITTED ON CRP
2020- ARCPLC enrollment - Deadline June 30, 2020
2020 PLC YIELD UPDATE – Deadline September 30, 2020
WHIP+ signup - Begins March 23, 2020
Disclaimer: Information in this UPDATE is pertinent to Kiowa County FSA only. Producers reading this and that do not have FSA interest in Kiowa County are advised to contact their local FSA Office.
COVID-19 USDA GUIDANCE
There is no public access allowed into the Service Center at this time. Customers can call 719-438-5851 and schedule a phone appointment or can call with questions. The staff is working and will continue to provide customer service. Customers can use email, fax and phones to contact the office and/or employees.  Contact information is provided below.
USDA Service Centers Open for Business by Phone Appointment Only 
U.S. Department of Agriculture Service Centers are encouraging visitors to take precautionary measures to help prevent the spread of coronavirus.
The Kiowa County USDA Service Center will continue to be open for business by phone appointment only and field work will continue with appropriate social distancing. While our program delivery staff will continue to come into the office, they will be working with our producers by phone, and using online tools whenever possible. All Service Center visitors wishing to conduct business with the Farm Service Agency, Natural Resources Conservation Service, or any other Service Center agency are required to call to schedule a phone appointment.  
Farm Service Agency: (719) 438-5851 extension 2 - Natural Resources Conservation Service: (719) 438-5851 extension 3 
Employees may also be contacted by email; the addresses are listed below in the Service Center contact information.  
Online services are available to customers with an eAuth account, which provides access to the farmers.gov portal where producers can view USDA farm loan information and payments and view and track certain USDA program applications and payments. Online NRCS services are available to customers through the Conservation Client Gateway. Customers can track payments, report completed practices, request conservation assistance, and electronically sign documents. Customers who do not already have an eAuth account can enroll at farmers.gov/sign-in. 
For the most current updates on available services and Service Center status visit farmers.gov/coronavirus.
2018 WHIP+
A few weeks ago, there was an explanation regarding the 2018 WHIP+ program that Kiowa County producers were eligible due to drought conditions in 2018 of D3 or greater. It was our hope to begin having producers sign the application for this program; however, unfortunately that will not be happening as soon as hoped. There are many questions that need to be answered before producers sign the application and payments issued.
The 2018 Farm Bill expanded the WHIP program to include drought and excessive moisture, beginning with the 2018 crop year. With the new qualifying disaster events, there are many questions nationwide and we assure producers that the questions are being addressed and the answers will get here.
CRP CONTRACT EXPIRATION
This is to serve as reminder to producers who have a current CRP contract that is due to expire LATER this year, that expiration date is not until September 30, 2020. For producers in this category who did not reoffer the land, the offer was rejected by USDA or the producer has withdrawn the offer are reminded that the land is still under an active contract with USDA. Any unauthorized uses of the land between now and expiration date will be deemed as violations of the terms and agreement between the contract holders and USDA. Violations will be handled by the County Committee and in most cases result in payment reductions. However, it can also result in termination of the contract and refunds are required in those cases.
D3 – SEVERE DROUGHT EXPANSION
May 14, the drought monitor map expanded the D3 rating into Lincoln and Cheyenne counties. In the early morning hours of Saturday, May 16 some beneficial moisture was received.
Image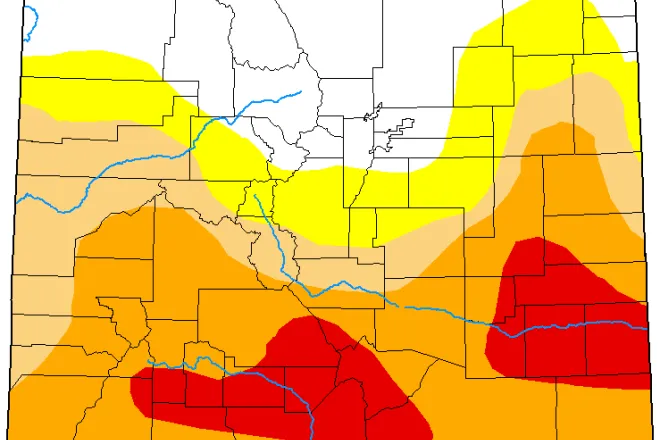 Rain at the end of last week was a nice sight to see return to the area, the western end of the county didn't receive much rain. The Eads area had anywhere from 1 inch to seven- tenths. Areas outside of Eads received anywhere from 2 inches to 12 hundredths. Hopefully more rain is on the way.
ACREAGE REPORTING DEADLINES
Due to the COVID-19 restricting visitors to the USDA Service Center, USDA has made the following changes for the 2020 crop reporting deadlines. In Kiowa County, the deadline for spring planted crops is normally July 15th. The following change has been made for the 2020 crop reporting acreage reporting deadlines.
The term 'ARD' stands for Acreage Reporting Deadline.
All late-filing procedures for the 2020 crop year for all remaining ARD's are waived until 30 days after the ARD for the crop. This means that the ARD stays the same; however, an acreage report meeting all the requirements that exist for those filed by ARD can be filed and considered the same as timely filed with FSA as of the ARD if it is filed within 30 days of ARD. After the 30 days, all provisions in Handbook 2-CP, paragraph 27 apply. This policy does not impact 2019 late-filed acreage reports which can only be accepted through the 2020 ARD.
Example: The ARD for a 2020 crop is July 15, 2020. The 2020 crop can be filed with FSA and reported through August 14, 2020.
REPORTING TO CROP INSURANCE AGENT
In previous years most producer's report planted acres to FSA first and then shared that information with their crop insurance agent for acreage reporting deadlines. This year it may need to be reversed: report to crop insurance first and then have your agent share that information through the data sharing software or email the information to the office, so that the acreage report can be completed for FSA purposes also.
The office is working on plans to supply a copy of aerial photos to producers so that those maps can be available whether you are reporting to crop insurance agent or FSA. Rest assured, the acreage report will get completed.
REPORTING FAILED WHEAT ACRES
Producers who have failed wheat acres that have been released from crop insurance appraisers, we ask that you have your insurance agent email or fax the appraisal information into the office. FSA will put the information into the producer's folders and hopefully before crop reporting deadline of July 15th some of the restrictions allowing visitors to enter the office will be changed.
LIVESTOCK PROGRAMS
Producers who wish to apply for both the Livestock Forage Program (LFP) and the new Coronavirus Food Assistance Program (CFAP) can call the office and make a phone appointment. Kiowa County FSA Office will begin scheduling phone appointments for the afternoon of Tuesday, May 26th. The forms can either be emailed, faxed or mailed to the producer for signature.
Details regarding the LFP program were in last week's article. The USDA staff, across the country will be receiving training on the new CFAP program later this week. As with any new program, there are always more questions than answers in the beginning, therefore we ask our producers to be patient.